This seeks to amalgamate SAMGA, the Mohair Trust and Mohair SA into one body, and was placed before the annual congress of the association in Port Elizabeth for discussion. During heated debate Retief got up and told congress that he could never associate himself with such a step and resigned from the executive committee with immediate effect.
One delegate after the other said the merger was a huge threat to the industry's independence, with Coligny Stegmann saying it would challenge the 'integrity' of the industry. Rothner Bekker added that whatever decision was taken to change anything must come from congress and not the executive committee.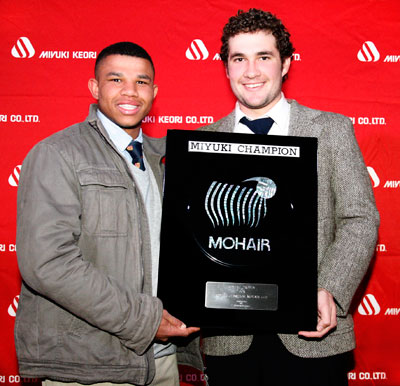 Miyuki-trophy Grand Champions Eugene van Hasselt and Jordi van Hasselt.
Responding to the flood of criticism, Davey Herholdt from the Mohair Trust tried to explain that SAMGA would be given more authority, that the needs of the industry must be prioritised, that real challenges must be addressed and that a smaller organisation would be more effective.
SAMGA chairperson Gerhard Grobler told Farmers Weekly afterwards that "producers have a passion for an independent organisation". While "the Mohair Trust and Mohair SA have already accepted the model, chances are slim that SAMGA will accept the planned restructuring in its current form," he added.
* The winners of the annual Miyuki awards were also announced during congress. They are: Van Hasselt Farming (Grand Champion), AC Fitzhenry and Son (Reserve Grand Champion), FE Colborne and Son (Champion Summer Clip), IR Bekker (Champion Winter Clip), RM Heydenrych (Champion Sustainable Farmer) and JB du Preez and Son (Reserve Champion Sustainable Farmer).