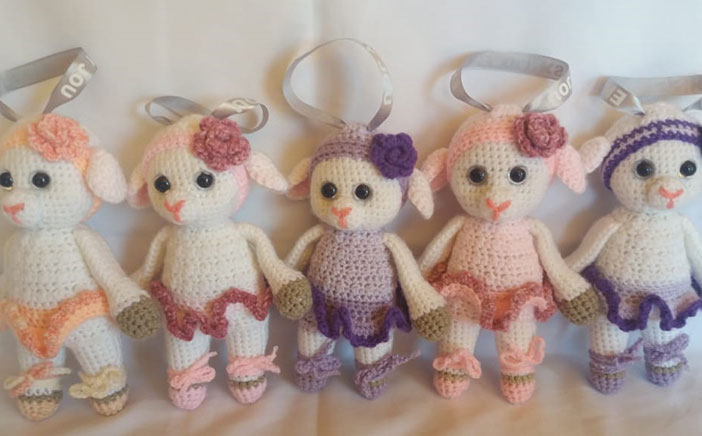 The women of Sutherland in the Karoo have come up with an innovative way to raise funds to alleviate the plight of the drought-stricken farmers in the district.
Through their Save the Sheep project, which commenced in November last year, they have raised more than R200 000 to buy maize and contribute towards the transport costs of animal feed to the region.
READ Bergplaas Merino Stud: lessons that keep it in the lead
"We know we can't crochet the effects of the drought away, but we can make a valuable contribution through our various projects," said Sybil Visagie, the project's coordinator.
The women of Sutherland have crocheted hundreds of sheep of between 20cm and 30cm in height so far.
Their product range includes a series of the main breeds found in the district, such as the Black-headed Dorper, Merino, White-headed Dorper and Meatmaster. They recently also included a breed of sheep endemic to the region, namely the Red Head.
The range has been expanded into a series of characters such as a braai sheep, an angling sheep, a hunting sheep, a rugby sheep and a tennis sheep.
"We are prepared to tackle any character a client wants. We recently completed some Blue Bull sheep for one of that team's supporters," Visagie said.
Together with the wives of local farmworkers, they are making woollen mats, which are available on order and through various outlets, such as in Clarence in the eastern Free State.
Visagie said the people of Sutherland were enthusiastically taking part in Save the Sheep in various ways; one old gentleman made a number of needles out of wood for the team to crochet the mats with.
Others are baking rusks to sell at farm stalls and other outlets.
The project recently received an order from Sweden for sheep made from pure wool, as well as an order for sheep made from handwoven Merino wool.
According to Visagie, they ordered the handwoven wool from the Eastern Cape, where it is also exceedingly dry.
"Our prices range from R100 to R150 for a relatively simple sheep, to as much as R400 for an intricate design. All our products are marketed with the logo 'I'm alive thanks to you' because for every Save the Sheep product, money is earned to keep more sheep alive for a longer period," she said.
For more information, please contact the Save the Sheep marketing manager De Manndi Symington on [email protected].