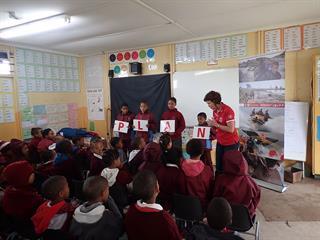 The tried and tested system WaterWise training programme is the best way to prevent these drownings, the institute said.
"We estimate that [the equivalent of] nine double-decker buses full of children drown in South Africa each year," said Ceres-based WaterWise instructor, Eoudia Erasmus.
Erasmus teaches learners in the Warm Bokkeveld about the dangerous of swimming in dams and swimming without adult supervision, as well as what to do when they or a friend get in trouble in the water.
Children are also taught to remember the phone numbers of the ambulance service and learn hands-on CPR using a dummy.
According to Tru-Cape managing director, Roelf Pienaar, if 31% of children drowned in dams each year, then everything possible must be done to prevent even one death.
"The outstanding rescue work that the NSRI carries out on beaches saves many lives, but WaterWise education is the best defence."
It costs R236 470 per year to train a single WaterWise trainer, but over one million children have benefitted from this training since its inception in 2006, he said.
Visit www.nsri.org.za/waterwise for more information.