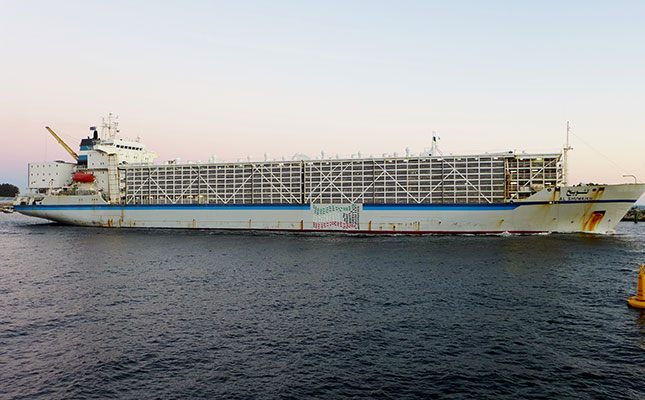 A potential ban on livestock exports from South Africa by ship would hamstring efforts to grow the country's developing animal production sector, and will also likely lead to an oversupply of red meat locally.
This was according to Doug Stern, president of Agri Eastern Cape (Agri EC), who said that isolated cases of animal welfare abuse during shipboard exports in other parts of the world should not be used as an indictment of this practice as a whole.
READ 'Welfare a government priority for live sheep exports'
Two export shipments, of approximately 60 000 live sheep each, left East London harbour in October 2019 and March 2020.
These were strongly opposed by the National Council of Societies for the Prevention of Cruelty to Animals (NSPCA) and AfriForum, with the Livestock Welfare Coordinating Committee also taking an official stance against the practice.
Allegations made by these entities included that clearly unwell or injured sheep were still loaded onto the ships; dockside workers were sometimes excessively rough with the animals during the loading process; water and feed troughs aboard the first ship were not regularly monitored and cleaned of sheep dung; and air quality in the shipboard compartments was often poor, especially due to excessive temperatures and ammonia levels.
A statement by the NSPCA following the March 2020 shipment accused the Eastern Cape Department of Rural Development and Agrarian Reform, and the Kuwait-based Al Mawashi company that owns the ships, of peddling propaganda that these exports were intended to boost the Eastern Cape's emerging livestock farmers.
READ Tips for stress-free livestock transporting
"On the shipment that left South Africa in October 2019, 56 002 sheep were loaded onto the Al Shuwaikh vessel. Of that, a dismal 4 410 sheep were from emerging farmers. That is not even 8% of the sheep that left South Africa," the statement said.
Stern said that while Agri EC and other role players in shipboard livestock exports did not dispute that there had been transgressions of animal welfare standards, as well as disasters such as the sinking of vessels in other parts of the world, "these occurrences cannot be viewed as the norm".
He added that modern purpose-built livestock transport ships had redundancy systems aboard to safeguard against total system failures.
Stern said it was "wrong" to suggest that live animal exports could be replaced with the exporting of carcasses. Carcasses and their products were more expensive to end consumers, with many lower-income consumers in the Middle East wanting more affordable live animals that also allowed for these consumers to fully utilise the so-called fifth quarter which includes, for example, the organs, hide, intestines, feet, the head and horns.
READ Online auction: game changer in South Africa's pork market
"Although the contribution by [the Eastern Cape's] emerging farmers is relatively small at this stage, the intention is for it to grow. The inclusion of emerging farmers in this initiative should be seen as a huge boost for greater inclusivity by them into the formal red meat value chain. This initiative should not be evaluated by where it starts, but by where it ends."
He said income increasingly generated for the Eastern Cape's developing livestock farmers as a result of shipboard exports would assist them to continually improve and grow their flocks and herds.
"No responsible farmer raises animals for them to be abused. Likewise, no responsible businessman spends million buying animals only for them to die before selling them. Agri EC will not hesitate to condemn deliberate, avoidable or intentional animal abuse," Stern said.