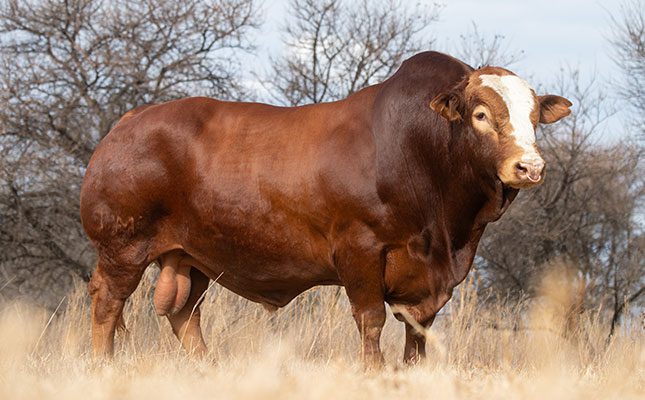 The bull was sold by Jaco Maré of JacMar Simbras in Hartbeesfontein to Francois Wehmeyer of Lermar Farming in Grahamstown at the recent Simbra Spring Showcase sale held in Parys, Free State.
Maré described the bull as "magnificent", with outstanding width and length.
"Buffel comes from an extremely successful bloodline that personifies the characteristics of the Simbra breed. His estimated breeding values are far beyond average.
Buyers are prepared to pay exceptional prices for top-class genetics because of the breed's rapid growth, hybrid vigour, heat tolerance and top-quality meat. A further positive is that Simbras are highly sought after by the feedlot industry," Maré said.
He described the Simbra as a tough, smooth-coated breed that was remarkably resistant to tick-borne diseases, with excellent walking ability. Coupled with the breed's inherent tolerance to heat, the Simbra was the ideal choice for red meat production under extensive breeding conditions in Southern Africa, he added.
Simbra cows were fertile, remarkably good mothers and weaned heavy calves, he said. Maré added that the record-breaking bull's dam, JM11 118, which was also bred by the JacMar stud, was an imposing cow that boasted an inter-calving period of 370 days.