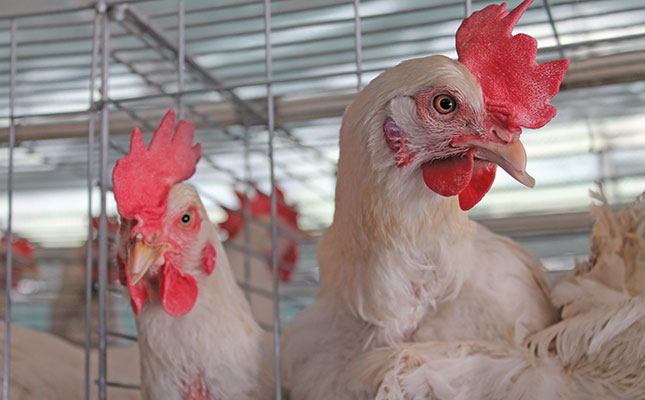 A sixth outbreak of highly pathogenic avian influenza (HPAI) has now been reported in South Africa, according to Izaak Breitenbach, general manager of the South African Poultry Association's (SAPA) broiler organisation.
A statement by the Department of Agriculture, Rural Development and Land Reform (department of agriculture) said the latest outbreak was reported on a commercial layer farm in the Randfontein area on Thursday, 6 May.
This follows a similar outbreak reported by the Western Cape Department of Agriculture on a broiler breeder farm near Worcester, also on Thursday.
"The affected farm [has been] quarantined, and the process of humanly culling the affected chickens is underway," a statement by the department said.
In April, three outbreaks were also reported in Gauteng and another in North West.
Breitenbach said the outbreaks seemed to be caused by the same strain of HPAI as the one currently prevalent in Europe, and had been brought to South Africa by wild migratory birds.
He said that although the industry had good systems in place, SAPA was still very concerned about the possibility of the virus spreading from wild birds, especially aquatic birds, to other chicken farms.
Meanwhile, Lesotho and Honk Kong suspended poultry imports from the affected municipalities. "Following the first outbreak on 13 April, all neighbouring countries lifted the [initial] ban on imports of live chicken and unprocessed products, except Lesotho, which banned imports from Gauteng.
"[Authorities in] Hong Kong has notified the agriculture department of a temporary suspension of the importation of all poultry products (carcasses, parts and offal, including eggs) from the affected municipalities within Gauteng and North West," a statement by the agriculture department said.
Breitenbach added that looking at the total outbreaks, there were currently more outbreaks on broiler breeder farms than commercial layer farms.  "In 2017, when the local industry was severely affected by avian influenza outbreaks, it was the other way around."
However, he stressed that despite the large volume of chickens affected, this had not yet had a substantial impact on the total slaughter rate, or total amount of eggs produced.
He also assured consumers that broiler meat and eggs remained safe to consume, provided that proper cooking protocols were observed with temperatures exceeding 60˚C.