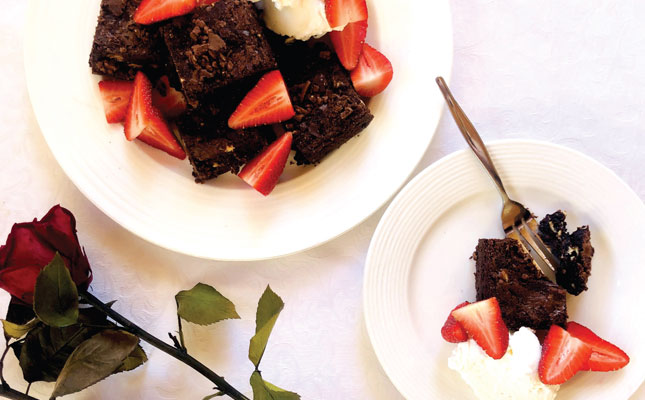 Makes around 12 brownies
113g unsalted butter
226g dark chocolate (no more than 70% cocoa)
267g caster sugar
15ml (1 Tbsp) vanilla extract
½ teaspoon salt
3 large eggs
162g cake flour
170g milk or white chocolate, chopped into chunks
1. Preheat the oven to 180°C. Grease a rectangular or square baking dish, and then line it with baking paper. You could also use a cake tin, and cut the brownies into slices.
2. In a bain-marie, melt the dark chocolate and butter, stirring occasionally until fully melted and smooth. Set aside to cool. (If you don't have a bain-marie, you can place a bowl over a pot with simmering water. Don't let the water touch the bowl. Alternatively, you could melt the chocolate and butter in the microwave. As chocolate burns easily, melt the chocolate in 10-second bursts, stirring between bursts.)
3. Whisk together the eggs, sugar, vanilla and salt until well combined.
4. Add the melted chocolate and whisk until all the ingredients are mixed through.
5. Fold in the flour until just combined, and then fold in the chocolate chunks. Spread the batter evenly into the bottom of the prepared dish.
6. Bake for 25 to 30 minutes, or until the top of the brownies look dry and the edges begin to pull away from the sides of the dish. Cool in the pan before cutting into squares.
7. Serve with ice cream, or cream and fresh berries.
GET INVOLVED!
Send your recipes and photographs to [email protected].