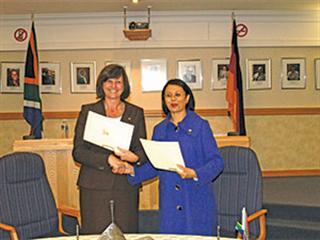 "South African citrus exports to the EU have been compromised because of CBS, as the European Commission Services introduced a threshold of five positive interceptions for South African exports in 2013," said Joemat-Pettersson. "Once this threshold has been reached, our citrus could be banned in the EU, a move that could have a substantial negative impact on the industry. "I've raised these concerns with my German counterpart."
Although the details of the discussions were not immediately disclosed, she said that the importance of the German market to South Africa could not be ignored. Citrus was one of the largest commodities exported to the EU. "South Africa exports 40% of its citrus to the EU worth R3 billion a year," she said. South Africa also exports wines, fresh grapes, processed fruit and vegetables and paper to Germany.
The country has also agreed to the possibilities of an agreement for the protection of the Geographical Indications (GI) with regard to agricultural products such as cheese, meat and olive oil. "We are at the early stages of developing such a system with only a few commodities such as honey bush and rooibos ready for protection," said Joemat-Pettersson.
The meeting culminated in the signing of a statement of intent regarding co-operation in the field of initial and continuing vocational training for favourable economic development of an agricultural holding. Germany will send experts to South Africa for two years, she said.