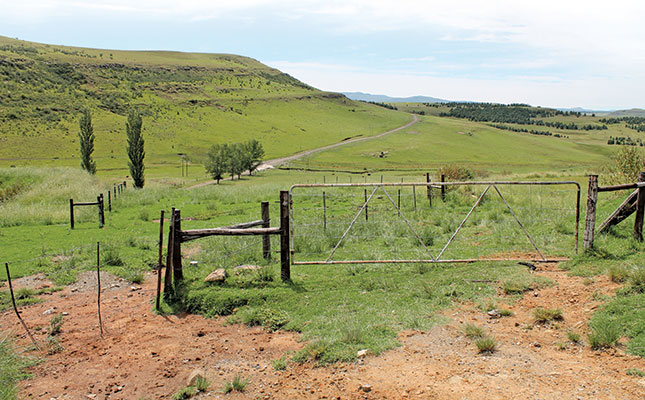 Emotions ran high on day one of Grain SA's annual congress at Nampo Park, Bothaville, Wednesday, as members reacted to a motion dealing with expropriation without compensation (EWC).
Grain SA vice-chairperson Derek Mathews asked congress to consider a motion comprising four salient points.
One of these proposed that Grain SA should continue to oppose the motion recently submitted to Parliament which asked for constitutional amendments to enable EWC.
"Through our cooperation and participation within Agri SA, we must support and make available all the resources we can to uphold the Constitution as it is today," he said.
Mathews also proposed that congress accept the other three points of the motion:
That Grain SA recognises and supports the need for land reform and transformation in South Africa;
That Grain SA recognises the need for a thriving and prosperous grain sector to sustain and enhance food security to the benefit of all in South Africa; and
That Grain SA will continue to advocate for and aspire to the handing over of title deeds to the beneficiaries of all land reform farms.
Mathews told congress that EWC would not only make the unlocking of the value of land impossible for new farmers, but would erode the foundation on which current grain production was financed.
The motion was seconded by former chairperson Louw Steytler, who added: "There cannot be a single individual in this hall who does not support this."
In order for the motion to have been accepted out of hand, it would have had to pass without any opposition. This did not happen, however.
The former vice-chairperson of Grain SA, Victor Mongoato, said that there were some members who supported the stance taken by the African Farmers' Association of South Africa (Afasa) that EWC was necessary but should happen in a just manner.
He said they supported the first three points of the motion, but were against any proposal to oppose EWC.
Mongoato added that constitutional amendments were needed to prevent land grabs, but the EWC was critical and just because of the way that people had been dispossessed of land in the past.
"If you bought land within the law, fairly, why do you need to panic, because the manner in which you acquired this land was legal?" he said.
There were many calls from the floor for the debate over the motion to proceed immediately rather than standing over to the second day.
Fanie van Zyl, a producer from Makwassie in North West, said government was not bluffing about land expropriation without compensation, despite promises of sustainability and the protection of food security.
Winburg producer Corrie Truytsman said the issue needed urgent attention, as EWC would eventually lead to famine in South Africa.
Dissie Kruger from Orania in the Northern Cape also highlighted the urgency, saying that many members would be absent the following day. Some, he added, would be attending the funeral of recently murdered Vredefort farmer Dirk Steenkamp, who had "already been expropriated of his land".
It was finally agreed that the matter would be debated after congress adjourned at 6pm.
In response to questions during a media conference, both CEO Jannie de Villiers and chairperson Jaco Minnaar said the matter had been dealt with according to the requisite process.
NB Grain SA passes amended motion on land expropriation
A motion dealing with land expropriation without compensation tabled at Grain SA's annual congress near Bothaville has been passed unanimously, following further debate on the matter and an amendment made to its contents.
One of the points of the original motion stating that Grain SA should continue to oppose the motion recently tabled in Parliament calling for constitutional amendments to enable expropriation of land without compensation, was amended to read: "Grain SA will as a matter of urgency seek out and engage with the ruling party and make all efforts to find consensus on this issue. Until such time as consensus is reached, the Constitution must be upheld as it is."