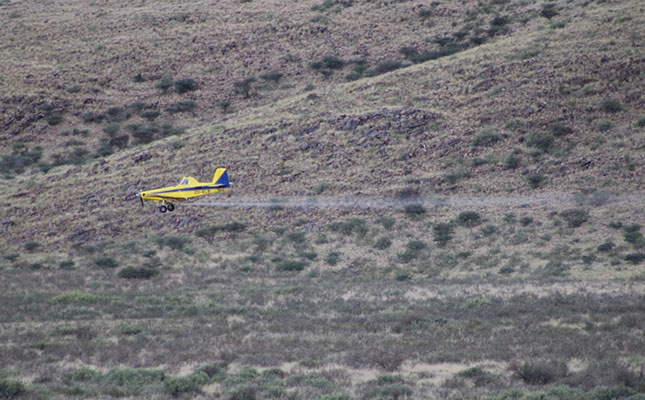 The enormous swarms of brown locusts currently in evidence across the Northern, Eastern and Western Cape need to be eradicated as soon as possible to prevent further damage to the provinces' farmland.
The swarms are still in the pedestrian stage, but would start taking flight within the next four or five days, making the problem a hundred times worse, according to Nicol Jansen, president of Agri Northern Cape.
READ Beware! The locusts are swarming this summer
"Aerial combating is currently the most effective option for managing the swarms. We urgently need support from the private sector to assist us in this way. We've already spent seven hours' flight time [fighting the swarms], but need at least 20 hours to complete the task.
"Management on land is, at this stage, the second-best option because of the vastness of the outbreak," Jansen told Farmer's Weekly.
The Department of Agriculture, Land Reform and Rural Development was, by request of Agri SA, in the process of putting plans in place to eradicate the locust swarms with aerial spraying but, according to Jansen, it was a protracted process.
Aerial support was needed immediately, as the resources on the ground were stretched to the limit.
The swarms stretched from as far afield as Jansenville in the Eastern Cape to Merweville in the Western Cape. In the Northern Cape, the areas of Victoria West, Marydale, Kleinbegin, Vosburg and Richmond, amongst others, were worst affected by the locusts.
"We cannot afford to allow the swarms to reach flight stage. This would mean a disaster of massive proportions, with enormous costs to the agricultural sector.
READ Drones, ducks and loud music used in fight against locusts
"It is therefore of vital importance that we prevent the swarms from reaching the irrigated crop production areas along the Orange River and in the Free State and North West," Jansen added.
According to Dr Gerhard Verdoorn, Croplife South Africa's operations and stewardship manager, there was a strong possibility that a third generation of locusts could hatch by May.
The warm weather, excellent veld regrowth and humid conditions were ideal for the development of a third generation of the insects, he explained.