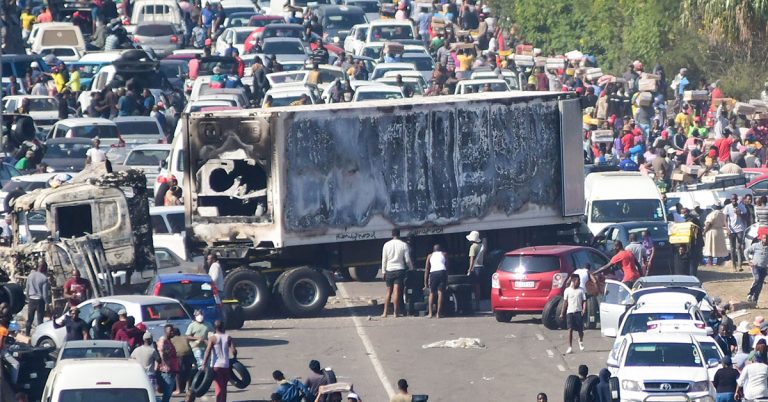 A task team, comprising organised agriculture and the agribusiness sector, has presented an urgent document to government outlining the extensive impact of this week's violent protests on agriculture in KwaZulu-Natal.
The document also included recommendations to the state on what needed to be done to support the sector after the widespread damage that resulted from the public unrest.
This followed a meeting between the agriculture task team and a high-profile ministerial task team led by the Minister of Agriculture, Land Reform and Rural Development, Thoko Didiza on Thursday, 15 July, according to Christo van der Rheede, executive director of Agri SA.
"One of the most important demands from our side is that the South African National Defence Force (SANDF) be deployed along the N3 to protect trucks moving to and from KwaZulu-Natal against the protesters and plunderers.
"It is also critically important that the trucks moving to and from the so-called hot spots such as Eshowe and Mkhuze be accompanied by the SANDF to and from farms," he said.
Van der Rheede added that the situation at the Durban harbour was a matter of grave concern and needed urgent attention from the state. It was vitally important that the harbour be re-opened so that imported products such as wheat and fertilisers could be off-loaded.
"We desperately need the wheat for bread, and fertiliser for the fast-approaching summer grain planting season in October," he said.
On Thursday and Friday several news sources, including News24, reported that food, fuel and other critical supplies bound for KwaZulu-Natal would be transported in heavily armed police convoys. Acting Minister in the Presidency Khumbudzo Ntshavheni reportedly said that the SANDF would secure the N2 and N3 commerce routes.
Yeast production in KwaZulu-Natal and Gauteng had also come to a standstill, according to Van der Rheede.
The shortage of yeast had a dire impact on the baking industry and could lead to a shortage of bread. He said yeast production needed to be safeguarded by the state as a matter of urgency to prevent shortages.