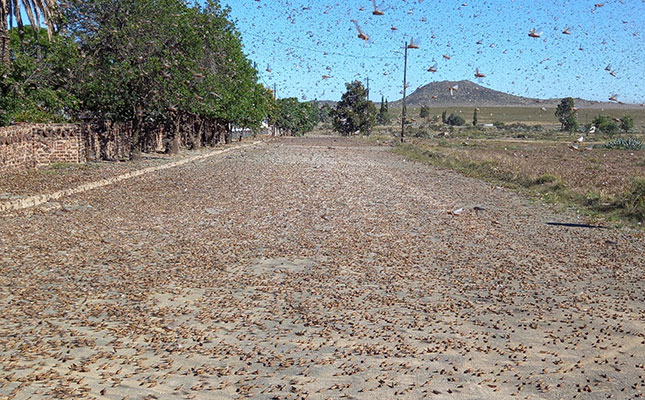 Agri Northern Cape is appealing for financial support of its aerial locust extermination team to prevent the brown locust swarms currently prevalent across the Northern Cape reaching the crop production areas along the Vaal and Orange rivers, the Free State, and North West.
According to Nicol Jansen, Agri Northern Cape chairperson, thousands of hectares in the province had so far been affected by different swarms, one of which was reportedly covering an estimated area of 400ha.
"At the moment we have two helicopters in the air, deployed by the Department of Agriculture, Rural Development and Land Reform. We also have deployed a privately sponsored aeroplane, but urgently need a further R70 000 to increase our locust management range."
The use of the privately owned plane was being sponsored by Free State Agriculture, Agri North West, Sanlam and Santam at a cost of about R300 000, he said.
The largest outbreaks were currently being experienced in the Prieska, Marydale, Kenhardt and Kleinbegin areas, while enormous swarms were also active in the Victoria West and Britstown areas.
Jansen explained that the locusts had reached the end of their pedestrian stage of development, with the first few swarms having already taken flight.
He stressed that it was vital that the insects be eradicated before they reach the flyer stage to prevent them reaching the crop production areas.
"The locusts must be stopped this week. If not, the majority of the swarms will have evolved into the flyer stage, putting crops in serious jeopardy.
"I have seen the insects devouring a nearly mature, green maize plant, leaving only the cob. I cannot emphasise enough how dire the situation is. We desperately need help," Janse told Farmer's Weekly.
Naude Pienaar, Agri North West assistant general manager, said the association decided to assist the Northern Cape region financially because it was "a neighbourly thing to do".
He added that the swarms were moving ever closer to North West. "We have to assist wherever we can. If not, we stand to lose a considerable proportion of the crops in our province."