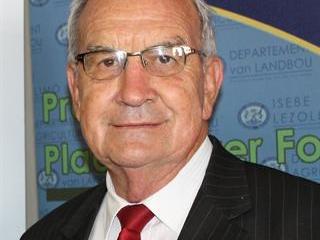 Van Rensburg said that he planned to remain active, serving the agriculture and public sectors in a new capacity that would be announced at a later stage.
He said he was proud of the Western Cape department of agriculture's performance during his term in office, which started in 2009.
"I believe the agriculture sector can play a fundamental role in solving the challenges of South Africa," he said.
Van Rensburg added that agriculture was central to land reform and black economic empowerment. "In the Western Cape we're proving that empowerment projects can be successful with the right design and support".
He said agriculture can help solve unemployment challenges, adding that investment in agriculture creates more jobs and generates more revenue than any other sector in the economy.
Van Rensburg expressed his gratitude to the agriculture community for its unwavering support during his term as Western Cape minister of agriculture and rural development.