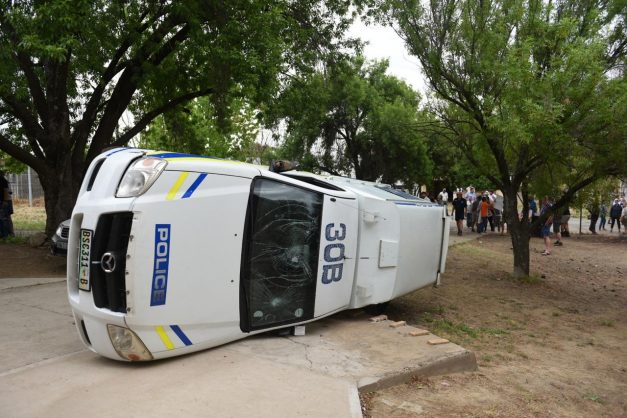 The case of the two suspects who appeared in the Senekal Magistrate's Court in connection with the murder of Free State farm manager Brendin Horner, has been postponed to 16 October when their bail application will be heard, according to Brigadier Motantsi Makhele, spokesperson for the South African Police Service in the Free State.
Farmer's Weekly previously reported that 21-year-old Horner was found dead, tied to a pole on De Rots Farm in the Paul Roux district last week.
According to Makhele, after the suspects' court appearance, a group of farmers had protested outside the court building.
"At least two gunshots were fired, a police vehicle was overturned and set alight, and court property was damaged by [the] angry farmers who forced their way to the holding cells," he said.
In a statement, Free State Agriculture (FSA) said the organisation did not promote violence, but the events at the Senekal Magistrate's Court were "the result of frustrations and the literal boiling over of emotions of farmers and the wider community's fight against crime".
"The situation is reaching a breaking point, and government will have to do something about crime, as there have been too many warnings about the seriousness of the situation from various agricultural and civil rights organisations," the statement read.
Also responding to the incident, Dr Theo de Jager, president of the World Farmers' Organisation and executive chairperson of the Southern African Agri Initiative (SAAI), said farmers had a proud history of non-violent behaviour, and needed to try to maintain that history as they were now also starting to receive support from other countries.
Following the protest, De Jager said SAAI had received message of support from sympathisers in Denmark, France and Canada with regard to the incident.
Meanwhile, the Minister of Police, General Bheki Cele, questioned the demonstrators' motives for turning their anger to the SAPS.
"There is no logic when these protestors burn a police van, which is the same resource that is meant to assist them. It is also baffling why the anger of this community is being directed towards the police when arrests have been made by the police and the suspects are before the courts," Cele said in a statement.