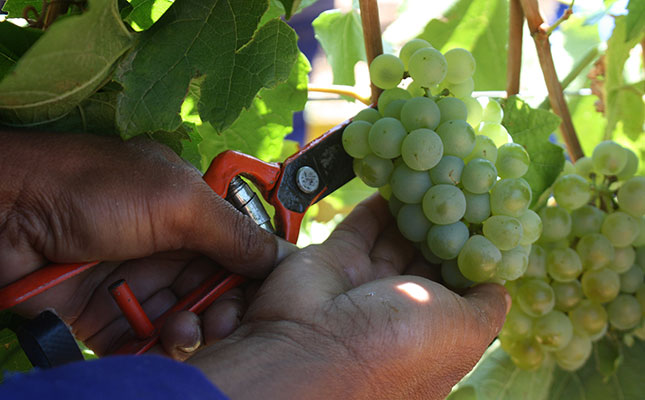 While the wine industry has received permission to complete the wine grape harvest, South Africa's lockdown on local and international sales will have far-reaching repercussions for the financial viability of businesses in the supply chain.
Rico Basson, managing director of Vinpro, estimated that the industry stood to lose around R450 million a week in local retail and international sales, with many farms also losing out on agritourism opportunities.
It was unlikely that the industry would recover international losses, since lost shelf space was simply taken up by other countries, such as Australia, Chile, Spain and New Zealand, with less stringent coronavirus disease (COVID-19) control measures in place.
The industry, with the assistance of the Bureau for Food and Agricultural Policy (BFAP), estimated that close to 40% of the current R9 billion in export value could be lost this year in the event of a prolonged lockdown.
The lockdown came as a double blow for many farmers, who had been struggling to make ends meet for the past 10 years and had only recently recovered from the drought in the Western Cape.
Basson said many businesses had started looking at ways to reduce the financial impact of the COVID19 pandemic on cash flow and business operations.
"Most businesses are looking for ways to reduce costs and in the short-term prevent large-scale job shedding. The industry employs 40 000 workers on farms and in wineries, and [there are] 250 000 jobs in the value chain. Tens of thousands of jobs may, however, be lost if the ban on wine and liquor sales is [increased to] more than two months."
Farmers would then also invest less in the re-establishment of new vineyards, which would have a further knock-on effect for three to five years.
According to Tim Hutchinson, CEO of liquor group DGB, senior executives at the company had agreed to take a three-month pay cut to help get the group and its suppliers through the crisis.
Hutchinson said he agreed to a 50% decrease in salary, whereas senior executive management unilaterally supported the proposal to have their salaries reduced by 25%.
"As a significant player in the wine and spirits sector, we are paying a huge price as the restaurant and hospitality sector has been in decline since December due to the recession. To add to these woes, in the last month, consumers stopped frequenting on-consumption outlets. And now to crown it all we have the complete shutdown of our total business," Hutchinson said.
At the time of publishing, the company had 190 000 cases, containing six bottles of wine each, waiting to be shipped.
DGB had also arranged for its Red Rock Brewery in Johannesburg to "break down" 80 000l of alcohol for use in the production of hand sanitiser, he said.