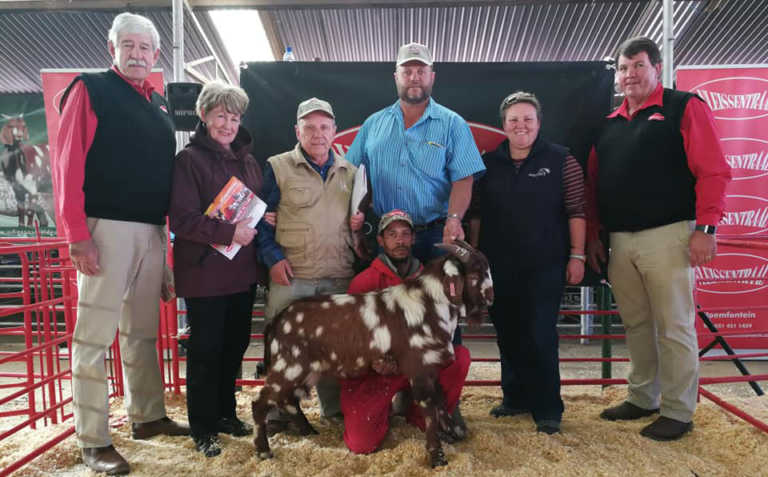 IVGs are categorised into several unique eco-types, including the Nguni (also known as the Mbuzi),  the Eastern Cape Xhosa Lob Ear, the Northern Cape Speckled (skilder, Afrikaans for painting), and the Kunene, or Koakoland.
The top-priced animal at the auction day was a Xhosa Lob Ear ram from Schalk van der Walt's Gelykfontein Stud near Venterstad in the Eastern Cape, purchased by Deon Vlok from Calvinia for R15 000.
The top-priced ewe was a Northern Cape Speckled bred by Elbé Visser of Die Bult in Edenville and bought by Vlok for R7 500.
There were 130 lots on offer, of which 115 were sold for a total of R335 255.
Breeders at the event told Farmer's Weekly that the IVG was hardy and adaptable, as well as being extremely fertile.
One of the ewes offered by Van der Walt at the sale was ten months old with a lamb at foot.
The ewes used their upright, curved horns very effectively to protect their young. "They are exceptional mothers," he said.
Van der Walt added that if veld conditions were very poor, the goats would browse instead of grazing. They also grew down on the undersides of their bellies to help them cope with cold weather.
He said that the goats could be sold for meat as well as for traditional slaughtering ceremonies.
"There's a very good market, more than we can supply."
The chairperson of the IVG Breeders' Society, Lourens Erasmus, said that breeders had been satisfied with the results of the auction, which were above expectations, and were "excited" about the future.
He added that some good quality goats had been on offer but breeders aimed to improve the quality of the animals even more.
Regional sales were planned for Pietermaritzburg and Pretoria later in the year.