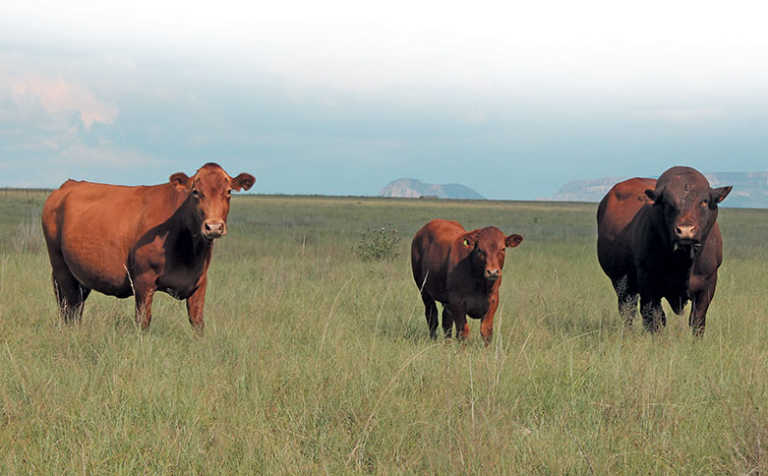 The Ferreira family's Ferrero Bonsmara stud and commercial beef enterprise, based in the Free State, has grown into a renowned operation.
The business started in earnest in March 1984 when Kiewiet Ferreira sold his cattle farm in Thabazimbi, Limpopo, and moved with his wife, Annie, and two young sons, Nelius and Theo, to the family's new home, Grootdraai Farm in the Eeram area of the Free State.
Also making the 500km southward trek by road was a 120-head nucleus of Kiewiet's Bonsmara-type commercial breeding cow herd and 60 Bonsmara stud animals.
Establishing the stud
Two years earlier, while still in Thabazimbi, and on the advice of Bonsmara experts John Lichti and Arthur de Villiers, Kiewiet had already begun mating pure Bonsmara bulls with his existing commercial female animals, comprising predominantly Simmentaler and Afrikaner genetics.
He had also established a small Bonsmara stud to speed up his goal of eventually having a pure Bonsmara commercial herd on the family's new farm.
Over the past 36 years, and in recent years with his sons, Kiewiet has grown and diversified the Ferrero Group to where it currently operates stud and commercial Bonsmara herds, an on-farm feedlot, summer grains cropping, and apple orchards.
While he remains the group's managing director, his son Theo and his younger brother, Johan, who was born in nearby Harrismith, are responsible for the extensive cropping enterprise.
Nelius manages the Bonsmara herds, the feedlot and the apple enterprise.
"About 72% of our land consists of sourveld grazing. A portion of our summer grain production is used for on-farm milling into supplementary feed for our herds and feedlot," says Nelius.
For years, the family did not buy in any Bonsmara breeding females for either herd.
Instead, they relied predominantly on rotational breeding with own-bred females using high quality bought-in and own-bred Bonsmara bulls to grow herd sizes, while improving the versatility and cost-effectiveness of the animals they produced and sold.
"Only in 2013 did we start buying selected Bonsmara female genetics to support our mostly own-bred female lines," says Nelius.
"We've also used a lot of artificial insemination with Bonsmara semen from bulls that we felt would add to our breeding and production goals."
Bonsmara: ideal for growing herds
According to Nelius, the characteristics of the Bonsmara make it easy to grow herd sizes.
"The breed's exceptional fertility and adaptability traits are particularly beneficial for this goal," he says.
Highlighting the Bonsmara's adaptability, Nelius says that Kiewiet brought his Bonsmaras from Limpopo's hot, tick-laden bushveld sweetveld to the winter cold and sourveld conditions of the Free State, yet the animals took this major production environment change in their stride.
For many years, Kiewiet retained almost all his stud and commercial Bonsmara heifers as breeding stock, rather the more conventional figure of 20%. Only the few that did not meet the basic Bonsmara breed standards were culled.
"We based our selection processes on various indices generated for the Bonsmara breed," explains Nelius.
"But as our commercial herd grew larger, it became too time-consuming to record and compare indices for every animal that we had. In the early 2000s, we stopped using the indices system for the commercial herd, but by then our Bonsmaras were well within the breed's required standards."
Despite this, Ferrero Bonsmaras still weighs every calf produced in the stud herd when it is born, at weaning (seven to eight months old), at 12 months, and at 18 months. The team also weighs calves in the commercial herd at weaning.
The data helps Nelius decide on what next steps are needed to further enhance versatility and cost-effectiveness.
Female animals
"There has been increased competition for the Bonsmara from other breeds in South Africa. To stay ahead, we've had to meet our customers' needs as best as possible.
"We've kept our advantage by breeding Bonsmara females with a good wedge shape – narrow chest and wide rump – but without compromising on femininity, fertility, adaptability and appropriate muscling," Nelius says.
Only once Nelius and Kiewiet were fully satisfied with these achievements did they begin focusing on further improving the versatility and cost-effectiveness of their Bonsmaras.
"For our particular production conditions and breeding goals, we've learned to put the right bulls to the right cows at the right time," says Nelius. "And we've learned to breed females that calve every year, and to keep the genetics of these females in our herds.
"We now have Bonsmaras that look as the breed should and are cost-effectively converting feed into beef."
The Ferrero Group has been careful to avoid pumping money into their Bonsmaras to artificially boost inter-calving periods and weaning weights.
Nelius explains that this would defeat the objective of breeding animals that are truly capable of cost-effective feed-to-beef conversion under both the Eeram area's production conditions and different environments elsewhere in Southern Africa.
Bulls
Kiewiet and Nelius pay equally close attention to improving versatility and cost-effectiveness in bulls. For example, they breed for a scrotal circumference that is greater than the minimum standard for the Bonsmara.
"They say that for every 2cm increase beyond the minimum scrotal circumference of a Bonsmara bull, his female progeny will come on heat 21 days earlier than the breed average," says Nelius.
Cost-effective breeding
Summing up their breeding philosophy, Nelius says: "Any beef female that's fed well can achieve impressive calving, inter-calving and weaning figures. But if you're losing money to achieve this, it defeats the point of cost-effective beef production. We breed animals that achieve a desirable balance between productivity and net profit."
Phone Nelius Ferreira on 082 316 3108, or email [email protected].