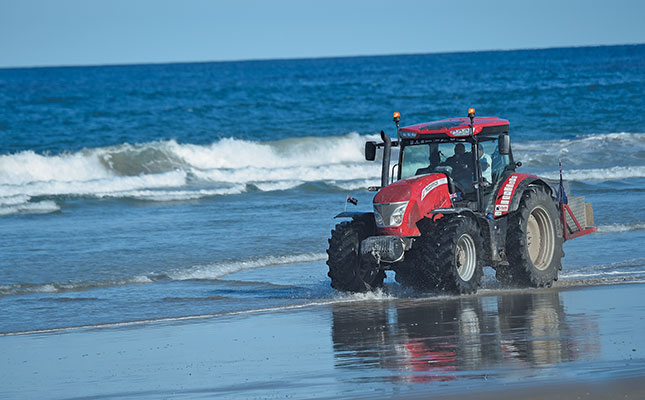 The first stage of the expedition was undertaken across Australia last year.
According to a statement by McCormick, the XTractor expedition is a "docu-reality programme", in which the tractors and their drivers are "participants in a journey to discover our planet".
The South African stage will start in the Western Cape and the tractors will travel through the Cape Winelands, the Garden Route, the Karoo, the Drakensberg, Lesotho, Uysalong the KwaZulu-Natal coast, through Swaziland, the Mpumalanga Lowveld, and eventually finish in Pretoria.
During its 50-stage journey across South Africa, the XTractor expedition will stop to take part in humanitarian activities, including establishing an orchard and vegetable garden for a community in Limpopo's Ephraim Mogale Local Municipality, and building a new soccer pitch for a high school in Gauteng's Sedibeng West district.
Another highlight of the trip will be a stop at South Africa's largest agricultural expo, Nampo Harvest Day, to be held in Bothaville in the Free State from 15 to 18 May.
The drivers of the X7 and X8 McCormick tractors are members of Italy's State Corps for Forestry, Environmental and Agro-food Protection and the 1st Paratroopers Carabinieri Regiment.
The expedition aims to showcase the durability, effectiveness and efficiency of McCormick's tractors and BKT's Agrimax IF and Agrimax RT tyres.
I've just met the 'Famous 4' McCormick tractors that are travelling across SA as part of the 2018 #XTractorExpedition. They're beautiful! Can you believe that these BKT tyres are still in such excellent condition after 4 500 km of gravel & dirt driving? Next stop: Dalton. pic.twitter.com/bP2j9bJ5Du

— Lloyd Phillips (@PhillipsLM) April 30, 2018
The #XTractorExpedition has reached the UCL Club in Dalton, KZN. A meet & greet with local farmers is about to start, followed by a social braai. The expedition then drives a short distance to Wartburg for the night. The team is bracing for a long journey tomorrow to St Lucia. pic.twitter.com/NTPvZ8KX49

— Lloyd Phillips (@PhillipsLM) April 30, 2018
The #XTractorExpedition has 4 McCormick tractors & 4 supporting Toyota Hiluxs. I think that Wartburg's diesel supply is now depleted ? pic.twitter.com/XnEHK3mOkk

— Lloyd Phillips (@PhillipsLM) April 30, 2018
A quick photo-shoot for the #XTractorExpedition as it passes through #KZN's #Nkwalini Valley #citrus production area. @FarmersWeeklySA .@ArgoTractors .@BKTtires .@justchad_cga pic.twitter.com/uLRRuL9Ydd

— Lloyd Phillips (@PhillipsLM) May 1, 2018
After 10 hours on the road today the stars of the #XTractorExpedition arrived at Monzi/St Lucia for some well-deserved TLC & a good cleaning ahead of a farmers meet & greet on Thursday afternoon. The expedition's human members are going to explore @iSimangalisoZA Wetland Park ? pic.twitter.com/DcrUer7jly

— Lloyd Phillips (@PhillipsLM) May 1, 2018