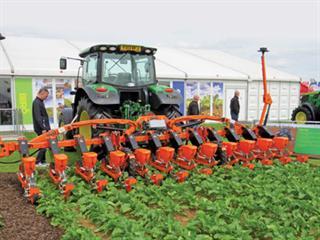 The new Kongskilde Vibro Crop Intelli series is a range of cultivators offering efficient and precise mechanical row crop cleaning. They're also remarkably easy to use. A stereo camera mounted on the cultivator identifies the green plants in the row, ensuring that the cultivator constantly follows the rows. This allows the unit to operate with an accuracy down to 25mm, so even when operating at high speed, the cleaning shares will operate close to the plant rows.
Automatic steering reduces operator fatigue and stabilising discs ensure efficient operation of the side-shift. The automatic section control can raise and lower the tine sections individually via a GPS terminal when the cultivator approaches the headland or an irregularly shaped area. This enables the entire land to be cleaned.
Stanhay Webb's world-renowned NINE electric drive cell-wheel drill (above right) was another highlight at the expo. This allows for accurate placement of any pelleted seed and regular-shaped, untreated seed, including maize, soya and sugar beet. Features include individual row spacing control, automatic tramlining and hopper low-level sensors. Every aspect of planting can be controlled from the tractor cab.The Blue Jet
Thurston Manufacturing is a US company with more than 40 years' experience. Its Blue Jet NT is a fully adjustable strip tiller that can produce the required seedbed in a wide variety of soil conditions with varying crop residue cover.
The Robocrop
The Garford Robocrop InRow Weeder uses video image analysis to locate individual plants in order to mechanically remove weeds within and between the crop rows. Developed principally for use on transplanted crops such as lettuce, cabbage and celery, the Robocrop is suitable for most crops planted with regular in-row and inter-row spacing.
The Sly Stripcat
Sly Agri is a UK company, but its Stripcat strip tiller (below) is a US design. It comprises a cutting disc with depth wheels on either side, followed by finger wheels to clear crop residue in front of a chisel point tine. Additional discs confine the soil to the cultivated strip and crumblers, and packer wheels make up the rest of the train. Hydraulic cylinders with individual accumulators apply downward pressure on the parallel linkage. Truck-type pneumatic rubber springs, controlled from the tractor seat, are used to vary the pressure on the packer assemblies.

View our Cereals 2013 gallery for more implements and machinery.