"Since the day I watched Blackie Swart land his Fairchild aeroplane on our farm Lower Drumbo near Barkly East, whenever I heard an aeroplane, I would run out to see what it was and where it was going,'' says Peter Goldsmith (73). "I was still a little snotkoppie, but the aircraft standing there fascinated me." Nevertheless, the desire to fly was etched into his heart on that day.
Sure enough, by late 2003 he was sitting in his own two-seater kit-built RAF 2000 gyrocopter, looking down on Lower Drumbo from 11 000 feet.
Practical value
Peter says that despite a gyrocopter not being able to hover, it can fly slowly, and makes light work of checking fences, counting livestock (according to Peter, livestock quickly become accustomed to a gyrocopter) and reacting to crime. Assessing the quality of grazing and crops, checking water sources and hunting predators can also be done with the gyro.
What's more, he says, a gyrocopter does not come at a ridiculous price. His RAF 2000 cost less than R500 000 – the same price as a top of the range 4×4 vehicle. Also, the RAF 2000's four-cylinder opposed Subaru engine runs on normal unleaded automotive fuel at a rate of between 18l/h and 22l/h while maintenance is equivalent to that of a motor vehicle.
"A gyro costs the same as a fancy bakkie, like a Land Cruiser, but can go where no such vehicle can," he says. "It's a very handy tool, especially on large farms." Peter has never felt unsafe in his gyrocopter and has safely completed 250 hours in the air, and is adamant that flying a gyrocopter is the safest option for anybody keen to fly.
"The rotor blades are not directly driven by the engine, but rather by the air rushing through them from the front," Peter says. "If your engine goes, just look for a patch where the rotors won't touch anything, and then it is basically similar to a normal landing."
Although a gyrocopter can't take off vertically like a helicopter, it can land – depending on wind speed – within a distance of zero to 30m, says the secretary of the South African Gyroplane Association (SAGPA), Gerhard Roux. This makes the search for an emergency landing strip a far easier easier prospect than with a fixed-wing aeroplane. Also, the RAF 2000 has an impressive glide ratio of 4 to 1 (which means that it can glide horizontally for 4 000 feet for every 1 000 feet it drops in altitude), giving a pilot significant time to react in any crisis.
Lastly, according to Peter, a gyrocopter is better equipped than a fixed-wing aeroplane to deal with strong winds and turbulence in mountainous areas such as Barkly East. "Because of where we live the turbulence on a fixed-wing will make you queasy to say the least. Gyros deal with less turbulence because the rotors actually stabilise the air," he says. "You will feel down-draughts, but not even close to how you would feel them in a fixed-wing aircraft."
Building his own COPTER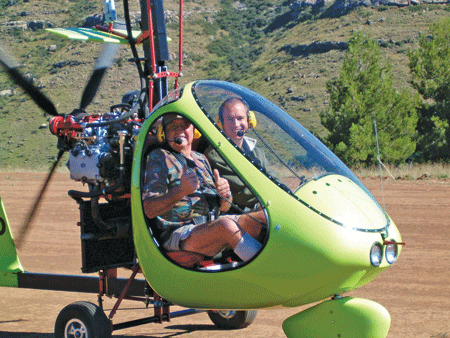 In 1999 Peter encountered his first gyrocopter – a Sycamore exhibited at the Nampo Harvest Day in Bothaville. As a qualified mechanic, however, he was keen to build his own gyrocopter and eventually tracked down the African agents for the RAF 2000 – Dave Armstrong and his son Garth from Botswana. During the festive season of 2002 they brought a RAF 2000 to the coastal town of Morgan's Bay in Eastern Cape and promptly converted Peter to its potential. "I went on a couple of flights with Garth, we had a braai and at the end of the day I signed an order for a kit," he recalls.
In June 2003, Peter's RAF 2000 kit, produced by the Rotary Air Force Marketing Inc (RAF) in Canada, arrived at the Port Elizabeth harbour. He personally transported the crates and boxes up to Barkly East and after studying a number of manuals and DVDs, began the daunting task of building his gyrocopter – a far more precision-driven job than he had ever attempted before.
"Everything is done very meticulously," he says. "You measure three times before you drill a hole; you don't want to drill it in the wrong place, because then there is a groot gemors."
The task took about 200 hours to complete. Then the gyrocopter's engine had to be run-in for 20 hours on a level runway behind his house. After a visit to the RAF manufacturing plant in Canada to see how things go down, various inspections and associated paper work, medicals, training and rigorous licensing procedures (Peter was awarded his full licence at the age of 69), his gyrocopter was ready to fly in December 2003. The day of the maiden flight was nerve-wracking for Peter as he watched Garth Armstrong strap himself into the gyrocopter for take-off.
But as his green RAF 2000 took off successfully into the sky, a deep sense of satisfaction and achievement washed over him. "I tell you it was a lovely feeling when that thing took off for the first time,'' he recalls. ''To think you put all the bits and pieces together and then it flies!"
Long distance flights
Predictably, Peter's plan for the future involves a substantial amount of hours in the sky. It is especially the challenge of long distance flights in his gyrocopter that intrigues him the most, and he tells of a 2008 flight he completed from Upington to Vredendal and back (five hours each way including stops) and a 2011 trip from Barkly East to the Gariep Dam (two hours and five minutes).
In fact, he is currently planning trips to Cradock, East London and Port Shepstone and eagerly shows me the routes he will take, often landing at small towns on the way.
However, for Peter it's not all about flying, but also very much about the building of gyrocopters and he admits to embracing the mechanical challenge in the workshop as much as the aviation challenge in the sky. "For me it is a pleasure to build gyrocopters,'' he says. ''But you need to be handy and know what you're doing."
It is therefore not surprising that Peter – who has recently qualified as an 'approved person' to inspect the RAF 2000 and ELA gyrocopters – has already rebuilt another RAF 2000 gyrocopter (damaged near Uitenhage in Eastern Cape) and has just recently completed another RAF 2000 that is now for sale.
He is also rebuilding yet another RAF 2000, and says he plans to build gyrocopters for as long as he possibly can.
The RAF 2000 is currently marketed and manufactured by Rotary Air Force SA in Upington in Northern Cape, making it all the more accessible to South Africans.
A short history of the gyrocopter
A gyrocopter is a helicopter and aeroplane hybrid, a one-passenger rotary-wing aircraft driven forward by a conventional propeller. Spanish nobleman Juan de la Cierva's research into developing and manufacturing the autogiro resulted in his model C-4, the first airworthy autogiro taking to the skies in Madrid on 9 January 1923. By 1928 his C-8 became the first rotorcraft to cross the English Channel. From then, Cierva granted production licences to manufacturers including Westland, Avro, De Havilland and Panall.
Although he died in an air crash in 1936 he had laid the foundation for the development of gyrocopters across the world. According to the secretary of the South African Gyroplane Association, Gerhard Roux, the first gyrocopters were flown in SA in the mid 1900s while the popularity of various models produced across the world has boomed in the past two decades. He says that this popularity can be partly attributed to the gyrocopter's impeccable safety record and affordability. Gerhard says there are currently 300 registered gyrocopters in South Africa.
Source www.gyroplanepassion.com
Extra sources: www.rafgyro.co.za


Contact Peter Goldsmith on 045 974 9258. •FW