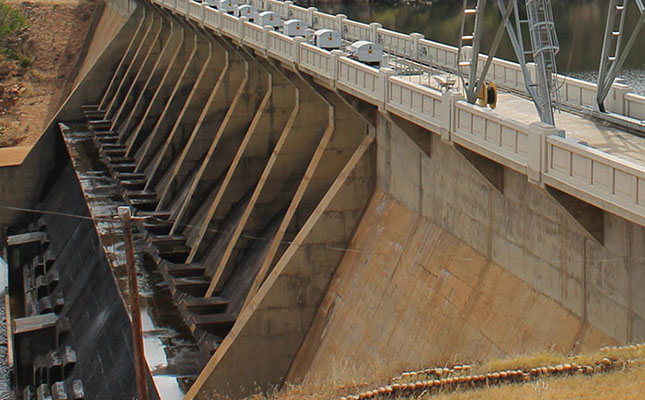 South Africa's dam levels are currently at "comfortable" levels but uncertainty over the impact of El Niño on summer rainfall patterns means that water has to be used wisely.
This is the message from the Department of Water and Sanitation (DWS).
Departmental spokesperson Sputnik Ratau said that the national dam level average was currently at 75,3%, up from the 64% measured at the same time last year.
While this was reassuring, he warned that levels were already decreasing as summer approached.
"We are seeing a decline on a week-by-week basis," he said.
The Weekly State of Reservoirs report released by the DWS on 1 October revealed that the national level had decreased 0,4% from the previous week, when it was at 75,7%.
Dam levels in the Western Cape had nearly doubled over the past year, from 35,9% in October 2017 to 65,8%.  The concern, however, was that the rainy season was coming to an end in that province, Ratau said.
A hydro-climatologist with the Climate System Analysis Group (CSAG) at the University of Cape Town, Piotr Wolski, said that important lessons had been learnt during the water crisis in the region, and water-wise measures now needed to be maintained.
Wolski has developed an online tool, the Big Six Monitor, to assist with projecting the status of the six dams forming part of the Western Cape Water Supply System. With this, users can evaluate various scenarios based on certain assumptions.
Wolski said that the region was unlikely to experience another water crisis within the next two years.
He warned, however, that if a dry spell similar to of 2015/2016 recurred, or if residents reverted to pre-drought water usage, the scenario could change.
Ratau said that the Eastern Cape was another area of concern. Although the average provincial dam level on 1 October was 66,1%, following good rains, this was still not sufficiently up from last year's figure of 53,9%.
Dam levels elsewhere in the country were as follows: Free State – 88,6%; Gauteng – 97,7%; KwaZulu-Natal – 60,7%; Limpopo – 66,3%; Mpumalanga – 73,2%; Northern Cape – 85,9%; and North West – 61,6%.
Average dam levels in Lesotho, an important water source for Gauteng, were at 40,1%, only marginally up from last year's figure of 36,5%.
Ratau urged water users in the agriculture sector to keep within the prescripts of their water use licenses and not "over abstract".