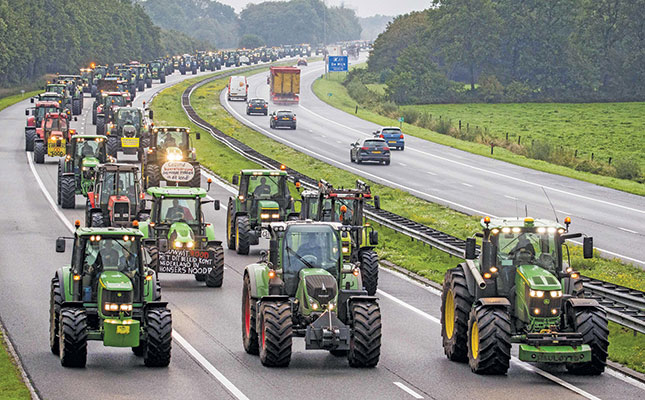 Farmers in the Netherlands caused an unprecedented traffic jam as they converged on The Hague in their tractors last week to protest against Dutch Liberal Party MP Tjeert de Groot calling for livestock production in the country to be halved.
This was according to Dutch motoring organisation ANWB.
The protest resulted in traffic congestion estimated to have reached 1 136km during the morning peak hour.
An estimated 2 200 farmers showed up to protest, many on tractors, with protestors converging on a field in the centre of The Hague, according to reports by the local police.
This protest follows accusations from De Groot that Dutch livestock farmers were responsible for much of the Netherlands' nitrogen emissions problem and called for livestock production to be halved.
He called for pig production to be decreased by six million animals and chicken production by 50 million birds.
Farmers were expressing frustration at their industry being targeted by the Dutch government in an attempt to meet the country's climate goals.
The government set a target of reducing greenhouse gas emissions by 25% by 2020 compared with 1990 levels; however, as of last month, there had only been a 15% reduction, according to a health watchdog organisation.
Farmers had expressed concern about where consumers would find adequate food supplies if they were forced to drastically decrease production, due to pressure from government bodies and climate activists.
Agriculture minister Carola Schouten addressed the protestors saying that as long as she was minister, there would be no halving of livestock production. She added that farmers needed to be appreciated for the vital role they played in human wellbeing.
"I want farmers who want to stay farmers, and who want to pass on this trade to their children, to be able to do so. We will help you prepare for the future," she said.
The Dutch apex court, the Council of State, ruled in May that Dutch rules for granting building and farming permits breached EU law for protecting nature from nitrogen oxide emissions such as ammonia and nitrous oxide, prompting a halt in thousands of projects including new roads, housing blocks and airports.
Farmers called on the government to subject more lucrative industries, such as motor racing, airports and multinationals, to equal scrutiny.