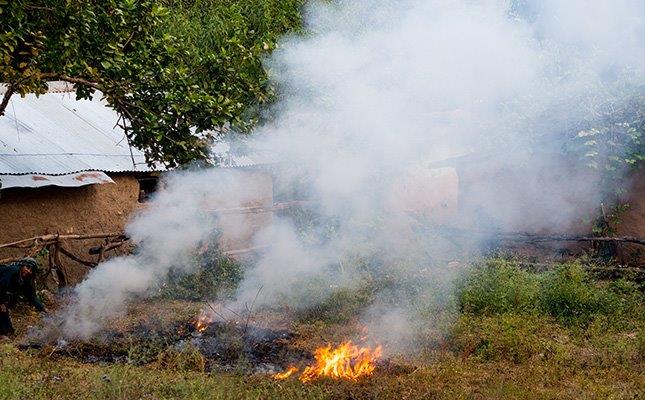 Almost 200 farmers in the territories neighbouring the Delhi metropolitan area in India have been arrested following a supreme court order for all farm fires to be halted.
According to the court ruling, it was an attempt to mitigate the extreme pollution problem facing the country's capital, which reached record levels last week.
Farmers have been blamed for the worsening problem, particularly in Delhi's neighbouring regions of Punjab and Haryana, where they continue to burn crop residues.
Dust and fumes from the fires were blown across to Delhi, where they created smog over the city. According to Safar, the Indian government's air quality regulator, 46% of Delhi's pollution this week could be attributed to stubble burning.
A public health emergency was declared in the area last week as it experienced its longest spell of "hazardous air quality" ever, with levels of pollution in the city reaching "severe" levels for nine consecutive days.
Despite the burning of crop residues now being deemed illegal, agricultural stakeholders said it was expected to continue as impoverished farmers could not afford farming machinery.
"Farmers are under attack from all fronts; even the supreme court is castigating farmers for the issue. The court has not considered the fact that almost 90% of the farmers have land holdings below two acres [0,8ha], and little purchasing power to buy costly machines," said Balbir Singh Rajewal, president of Bharatiya Kisan Union.
Farmers have criticised the government and environmentalists for blaming them for the pollution problem.
The machinery needed to mechanically clear the fields was expensive and many farmers could simply not afford it; the only solution they had was to burn the excess crops, Rajewal said.
The local government of the Punjab region said in a statement that efforts would be ramped up to tackle the fires and crack down on farmers, and have so far arrested at least 196 farmers for violating the ban.
The ban follows a petition submitted to the Indian supreme court by environmental activists, which led to the order for a complete halt of the practice. The court also reprimanded authorities in the Punjab and Haryana regions for allowing the illegal practice to continue.
Indian authorities reported that on Sunday, air quality monitors registered the concentration of toxic particles in the air at 50 times the level recommended by the World Health Organization.
On Monday (4 November) alone, Punjab registered 5 953 farm fires, the highest number recorded this year, which, according to satellite data collected by the Punjab Agriculture University, increased the total number of farm fires so far this season to 31 267.