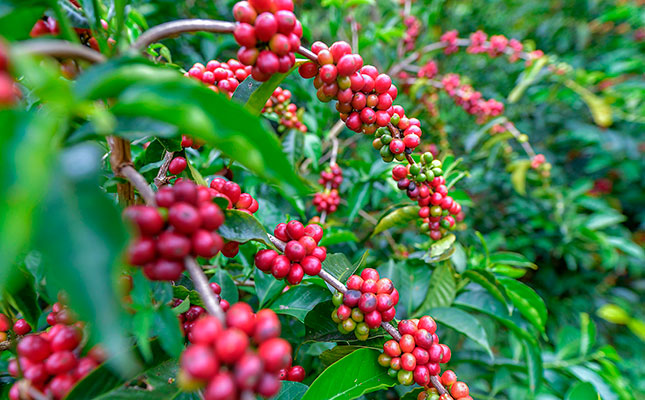 Although global coffee exports fell 3,4% year-on-year in January to 10,21 million bags, total exports for the first four months of the 2020/2021 season, which runs from October to September, was 3,7% higher, according to the International Coffee Organisation (ICO).
The organisation said exports increased during this period to a total of 41,9 million bags compared with the 40,9 million bags produced during the same period in the previous season.
This was primarily attributed to a 21,9% or 16,77 million-bag surge in shipments from Brazil, where producers capitalised on a decrease in exports from most other regions to increase their market share.
For the corresponding period, exports from Africa fell 13% or 3,81 million bags as shipments from three of the region's five largest producers declined.
The Asia and the Oceania regions' exports saw a decline of 3,9% to 12,19 million bags, while exports from Mexico and Central America slumped 17,5% to 2,62 million bags.
The decline in exports from South American countries was partly attributed to severe weather conditions in this region, including hurricanes Eta and Iota.
Market experts offered contrasting views on the demand levels on the global coffee market during the COVID-19 pandemic and related lockdown restrictions around the world, with some analysts indicating that demand had fallen despite an increase in home use.
However, according to the ICO report, global coffee supply and demand were expected to be balanced during the 2020/2021 season, with little change from its previous report being forecast, which indicated a surplus of 5,27 million bags.
However, some market analysts surveyed by Reuters said a larger surplus of eight million bags was being projected for the 2020/2021 season.
According to a recent report on the ResearchAndMarkets.com research platform, the global coffee market was valued at US$465,9 billion (about R6,97 trillion) in 2020.
The market was mostly driven by demand from Europe, but the Americas was expected to show the most significant growth in coffee consumption in the medium term, due to an increase in the use of coffee machines and single brewing systems. Furthermore, rising demand for ready-to-drink coffee capsules and pods was also contributing to the growth in the coffee market.