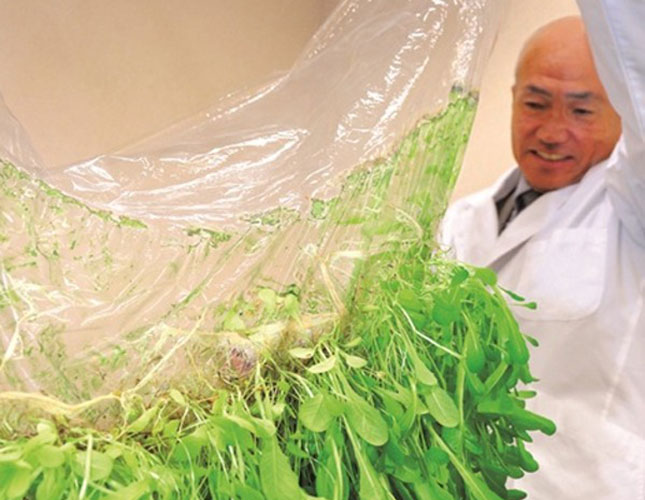 Dubbed Imec, the innovation, developed by Mebiol's Dr Yuichi Mori, makes it possible to grow crops 'virtually anywhere', according to a report from the Japanese government. Mebiol is a technology corporation based in Tokyo.
The report describes 'film farming' as using "waterproof sheets to separate the crops being cultivated from the ground underneath".
It continues, outlining the basics of what it says is a 'simple system': "The special features of the new technology are to be found in the film, which is made of hydrogel, a hydrophilic polymer gel used in disposable diapers and other products. The film's design incorporates nano-sized (one millionth of a millimetre) pores, which absorb water and nutrients but block germs and viruses. This means only small amounts of agricultural chemicals are needed, ensuring the crops are safe to eat."
"As the film holds on to water, it also makes the plants work harder to get it by increasing osmotic pressure; the plants create more amino acids and sugar, and so they taste better and have higher nutritional value."
Ali Adnan, senior adviser at Mebiol, said 150 farms around Japan have introduced the technology, with "over 10 already deployed in China".
He added that "future projects within the next 12 months are forecasted to be installed in Germany, Saudi Arabia, Qatar, and several other countries are in the pipeline for approval".
Imec is already being used to grow tomatoes around Japan and at overseas locations, including Shanghai, Singapore, and Dubai.
More than 50% of the farmers in Japan come from a non-farming background, and, according to Adnan, "they say that the system is easy to use and enables them to produce high-quality produce".
With its 'easy-to-use' aspect, Imec may prove a boon to small-scale and even urban farmers in South Africa, and Adnan says that, "Farmers in South Africa can access our technology. We will first need to export the simple system and film from Japan."
For more information about Imec, visit www.mebiol.co.jp/en