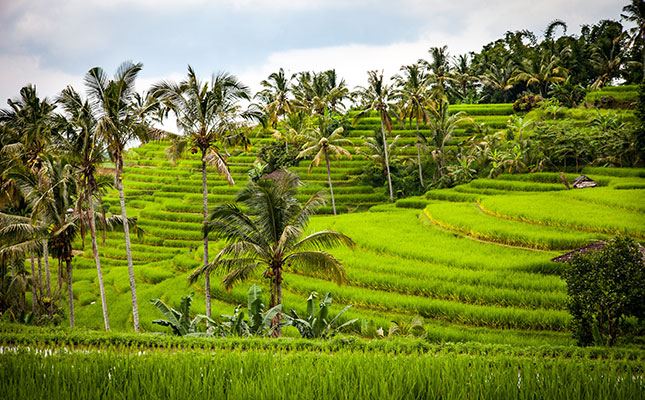 Indonesia has started the development of a controversial new, large-scale food estate where rice, maize and other crops will be grown in an effort to mitigate the country's reliance on imports.
According to President Joko Widodo, the project will be led by defence minister Prabowo Subianto, and was expected to cover an area of 770 000ha, of which 148 000ha would be allocated to rice, and 622 000ha to non-irrigated land for crops such as maize.
The project will be based in Central Kalimantan on Borneo island and in North Sumatra, and will be extended to West Papua, East Nusa Tenggara and South Sumatra, according to the announcement made in a televised cabinet meeting.
"Infrastructure support and road access will also be carried out in the field immediately so that […] large modern agricultural tools will not experience difficulties," he said.
The country, which is highly dependent on imports of wheat and rice, previously attempted to become self-sufficient under the leadership of former military leader Suharto in the 1990s. He launched the Central Kalimantan's Mega Rice Project (MRP), which was now considered one of the largest environmental disasters in Indonesian history.
The project proved devastating due to the ill-suited peatland in the region, which had nutrient-poor soils.
Commenting on the announcement, Subianto said the project was needed now, due to the warning of food scarcity from the Food and Agriculture Organization of the United Nations amid the COVID-19 pandemic.
He said, as part of the project, 30 000ha of cassava would initially be grown and this would rise to 1,4 million hectares by the end of 2025, with the flour derived from the plants used as an ingredient in staple foods such as bread and noodles.
Meanwhile, environmental groups reacted strongly, citing concerns about dried out peatland triggering large forest fires in the region.
Greenpeace Indonesia also criticised the project over concerns that converting carbon-rich peatland into giant farmlands could cause an environmental catastrophe.
"Since 2015, over a quarter of a million hectares of peatland forest have burned in Central Kalimantan," it said in a statement.
"While the scientific community is urging us to protect all peatland to halt climate change, the government instead is backing a plan that looks set to turn this land into another carbon bomb."
Nazir Foead, head of the Peatland Restoration Agency (BRG), told Reuters, however, that he was certain that there would not be a repeat of the MRP "fiasco" because the government had learnt from its mistakes.
Many of the senior officials now in charge were veterans of the MRP, and were taking every precaution not to make the same mistakes again.
Knowledge of how to sustainably manage peatlands had also evolved in the years since, as had government policies on peat protection, Foead added.