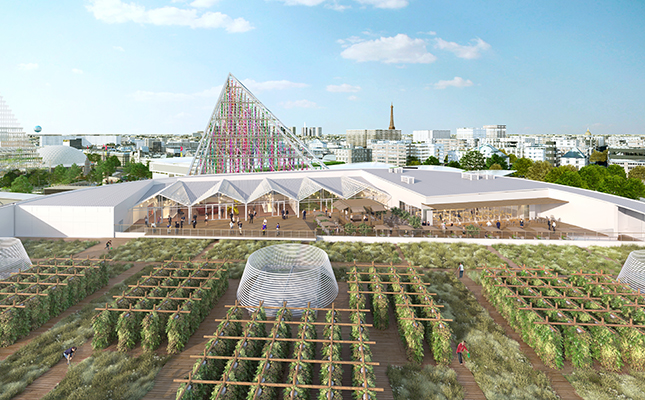 Paris' flagship farming project is nearing completion, with the city preparing to become home to one of the world's largest urban agricultural operations.
The project is set for completion by 2020 and will be located on the rooftop of a new building currently under construction in the south-western part of the city centre.
It forms a part of the Parisculteurs project, which aims to plant 100ha of vegetation in Paris by 2020, with one third of this devoted to urban agriculture.
Two leading French firms, Agripolis and Cultures en Ville, have teamed up to develop this ambitious project, which will comprise a 14 000m² rooftop farm devoted to growing fruit, vegetables and herbs.
According to a media statement by Agripolis, the farm had been designed to produce about 1t of seasonal fruit and vegetables per day, while members of the public would also be able to rent about 140 allotments to grow their own produce.
The produce grown on the premises would be sold to visitors to the facility, as well as restaurants in the area. It was expected that about 10 000 people would visit the facility every year.
"Our fresh produce will be used to feed the inhabitants across the south-west of the city, either directly, through veg-box schemes or via shops, hotels and canteens, thereby helping to reduce food miles," Pascal Hardy, founder of Agripolis said.
"Furthermore, we won't be using any pesticides or chemicals, so the farm will be a haven for biodiversity."
Crops will be arranged vertically in columns and fed by a rainwater and biological nutrient system.
While the produce would be grown entirely organically, the crops would not be able to carry the organic label as French regulations stipulated that only crops grown in the ground could be classified as organic, the statement said.
It was envisaged that more than 30 different plant species would be grown on the site, which would be tended by a staff of 20 gardeners.
The project would also be pioneering its own farming technique of aeroponic vertical farming.
Apart from not requiring pesticides, this method would be using a closed water system and no soil, therefore minimising the risk of any pollutants.
Furthermore, by supplying people with produce right on its doorstep, the farm will have an exceptionally low carbon footprint, the statement added.
Educational tours will also be run on the farm and would be aimed at providing training and information about urban farming.
"Our vision is a city in which flat roofs and abandoned surfaces are covered with these new growing systems," said Hardy.
The farm will be operated by Agripolis, while Cultures en Ville will be responsible for services and events held at the site.