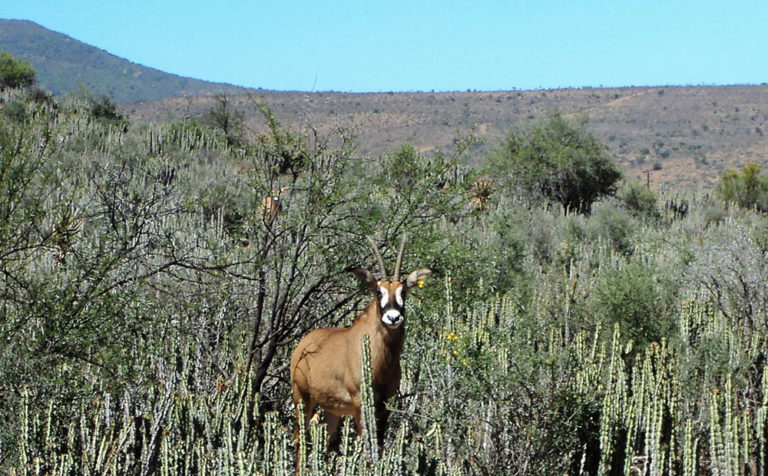 What is the state of trophy hunting in Africa?
Now that game ranching has stabilised and auction prices have dropped to acceptable levels, hunting in South Africa is set to gain ground.
'In contrast, in African countries to the north, where most land is owned by the state, game numbers are declining and hunting concessions and hunting have become expensive.
Further, unpredictable government policies have caused havoc in the international world, to such an extent that some concession holders in Tanzania have cancelled contracts.
Even those South African outfitters and their professional hunters who have traditionally purchased hunting concessions in other African countries are now encountering resistance from hunters because of the greater availability and affordability of game in South Africa.
So, despite South Africa's red tape and the negative (and false) publicity around so-called canned hunting, we're still a preferred destination.
Clearly, the lesson for Africa is that the key to successful game ranching and hunting is privatisation, where minimum poaching and corruption occur and financial returns encourage landowners to build their herds. Namibia is increasingly following South Africa's game ranching model, which now offers up to 50 species and subspecies and attracts, in addition to the serious hunter, first-time hunters, partners and children.
The larger the hunting ranches and the wider the selection of animals, the more popular they are.
Of course, many countries offer game and bird hunting and fishing. Hunters have many choices, but the countries must be tourist-friendly.
How would you describe American hunters' attitudes towards the industry in Africa? 
With the international hunting marketing season in full swing, the message from the US is quite positive.
Safari Club International's convention in Reno, Nevada, attracted about 8 000 hunters, down on the figure of previous years, partly due to the venue moving from Las Vegas. In contrast, the Dallas Safari Club convention attracted 35 500 people, including the younger crowd, in a booming Texan economy.
But due to the government shutdown, the US Fish and Wildlife Service was not present at either convention to explain why the US will not easily allow import permits of certain animals on the Convention on International Trade in Endangered Species [CITES] 1 lists. Legislation requires that every so many years these have to be reviewed.
Over the past 20 years, the US has held more hunting shows to raise funds and promote hunting with the youth. For them, hunting is an adventurist pastime, enjoyed with family and friends, and a safari is a healthy holiday break.
Prospective visitors to Africa consider factors such as safety, health issues, politics, the standard of food and accommodation, and a relaxing holiday atmosphere before they book a trip to Africa.
Sadly, bookings for the 2019 season are considerably down after the the South African government was going to expropriate property without compensation. Hunters are wary that they will lose their deposits if outfitters cannot hunt on their land.
Also, the continued protest actions and farm murder news regularly shown on US television channels have made hunters from that country nervous about travelling to South Africa with their families.
How do you counter anti-hunting/anti-firearm lobbies?
Anti-hunting and animal rights organisations are always present. It has been alleged that animal activist organisations infiltrate CITES by buying delegates' votes, and spending a large percentage of funds collected on marketing.
While the Professional Hunters' Association of South Africa (PHASA) does not engage with them, we make sure that our policies are acceptable.
Members are requested to adhere to PHASA policies and to hunt with pride. Other than that, all one can do is constantly tell the true story about hunting, which is that it is a conservation tool, as proven by academic research and data.
The South African ranching model, driven by hunting, is a clear example of how and why game has increased 'through the barrel of a gun'.
Sustainable utilisation of game and habitat is an approved concept accepted by the International Union for Conservation of Nature (IUCN). South African wildlife ranchers have, over the past 40 years, increased game numbers from 500 000 to 22 million.
There is more privately owned land under conservation in South Africa now than in the 1950s, mainly because of hunting, which has given wildlife an economic value. Species such as the tsessebe, roan antelope, sable, bontebok and rhino have been saved from extinction, as private wildlife landowners breed them for profit.
What is the difference between canned hunting and captive-bred animals?
The IUCN does not regard wildlife/game as wild if fenced at all. Not even the huge Kruger National Park is wild enough for them.
The truth is that, due to human population pressure on wildlife habitats, poaching, and a lack of privately owned land, Africa's wild animals are becoming scarcer. The IUCN model for game in Africa is catastrophic for game numbers.
In a sense, all fenced game is captive bred, irrespective of the size of the land. But that is not the same as canned hunting, a description that is often used, along with the term 'unethical', to discredit outfitters, and not only by the animal rights brigade.
Some factions in the hunting industry use this criticism to attack competitors with a holier-than-thou attitude in order to boost their own status.
Basically, canned hunting is when animals have been captive-bred or tamed to such an extent that they cannot exist unless fed in small enclosures; a canned animal is one that cannot survive naturally in the environment it has been placed in.
This is illegal, and PHASA does not accept it. The so-called canned lions (in effect, captive-bred lions) are raised in controlled areas and then released on registered lion-hunting ranches to fend for themselves.
They may only be hunted after one month of being released. This practice is used worldwide. In Argentina, only captive-bred puma are allowed to be hunted in order to protect the few wild ones left. In the US, they use the term 'estate hunting' for this.
What is the trophy industry worth in South Africa?
An estimated 8 000 international hunters and 3 000 non-hunters and connected tourists visit South Africa annually, spending R2 billion on hunting 50 000 trophies. South African biltong hunters spend R12 billion.
Approximately half of these international hunters have their trophies mounted in South Africa, and they usually tour the country before or after their hunt.
The result is that hunting creates about 50 000 jobs in our rural areas in the form of professional hunters, guides, skinners, trackers, catering staff, housekeepers, maintenance, conservation management, anti-poaching, and taxidermy.
Add to this infrastructure development to accommodate international clients and their fellow travellers, and all that goes with it, such as vehicle purchases and hire, staff accommodation, cooling, freezing, slaughtering, meat processing and hide-drying facilities, and one realises the size of the industry.
At the same time, international hunters and outfitters, being aware of their social responsibility to their communities, make donations to the rural schools on the ranches where they hunt.
Unfortunately, government red tape, especially with regard to rifle restrictions and parental permit permission, still affects hunts to South Africa, as does lack of promotion.
How many Big Five animals are hunted in South Africa, and at what price? 
Prior to 2018, about 1 000 captive-bred, ranched lions were hunted per year for five years. Numbers are debatable at present, but these hunts cost between $5 000 and $8 000 (about R72 000 to R115 000), excluding daily rates.
CITES approved the hunting of 150 leopards per year but not more than 10 are hunted at about $20 000 (R290 000)] each, including daily rates. Fewer than 10 elephants are hunted per year at about $8 000 (R115 000) each, but nearly 100 were poached in the Kruger National Park in 2018. Many more buffalo are hunted, with each hunt costing upwards of $9 000 (R130 000), including daily rates, depending on size.
Phone Arthur Rudman on 083 280 1335.