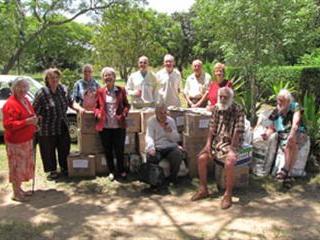 As a result the Zimbabwe Pensioner Support Fund (ZPSF), which delivers basic food parcels to almost 1,650 pensioners in the country's rural areas and smaller towns, are hoping to increase the quantity of boxes for them. This is about 40-45% of the pensioners that need aid.
Some are destitute ex-farming pensioners. Linda Botha Schultz, Fund Raising & Awareness coordinator for the ZPSF, says: "We are currently supplying them with 80 boxes per trip….. and we are still hoping to increase it to 100 in total," she said. Each expedition every eight weeks costs around R250,000. Two trucks deliver food parcels to the elderly living in 28 old age homes, private dwellings or feeding kitchens, concentrating on the homes that are out of the way and don't get much aid from other organisations.
The fund also supports the Verity Amm feeding kitchen in Bulawayo, which supplies 85 to 100 people with two meals a day, four days a week.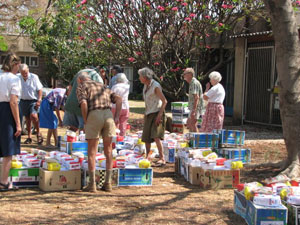 Food parcels arrive in Zimbabwe
A representative from the Commercial Farmers Union (CFU) in Zimbabwe was concerned about the increasing numbers of "golden oldies" whose money was running out as they got older and frailer. "It is so heart breaking to see these once proud men coming into my office, some as old as 85 years old, thin, frail and very obviously struggling, with their caps in hand asking if we can put them on our list of job applications so that they can go out and get a job," she said.
"All I can do is add them to my growing list and pray that we can get enough food parcels to go around," she said.
"We are so terribly grateful for every parcel that makes its way to us."
Hannes Botha formed the non-profit organisation in 2007, which he coordinates with a team of volunteers in South Africa who source, pack, load the trucks then deliver between 17 and 22 tons of food supplies each trip. He organises all the paperwork and permits required, and has been accompanied by government officials from time to time who verify that the organisation is fulfilling its agenda. One truck travels via Bulawayo to Gweru, Redcliff and Shurugwi, while the other delivers to Masvingo, Mutare, Rusape, Chinhoyi, Kadoma and Kwe Kwe.
Shultz is hoping for a good Christmas this year – meaning a modest extra in each box. "We have lost so many of our aged angels in Zims this year and yes – there is always another one to take their place on the list,'" she said on the ZPSF Facebook page. "This has made me realise that one has no idea for how many more this might be their last one." The Christmas trip is scheduled to leave on about the 4th December.
TO DONATE:
Zimbabwe Pensioner Support Fund
First National Bank
Malalane Branch
Branch Code: 270952
Account Number: 62239042906
Swift Code: FIRNZAJJ
Please send an email to her on [email protected] so she can say thank you.
http://zpsf.terapad.com / www.zimpen.co.za
Linda can also be reached at (Cell) 079 6082676 landline 013 7900934
Fax to Email: 086 267 8499
Section 21 Co Reg. 2007 034036/08
NPO Number: 096733
Section 18A PBO No 930031642
Please join them on Facebook – www.facebook.com/Zimbabwe-Pensioner-Support-Fund