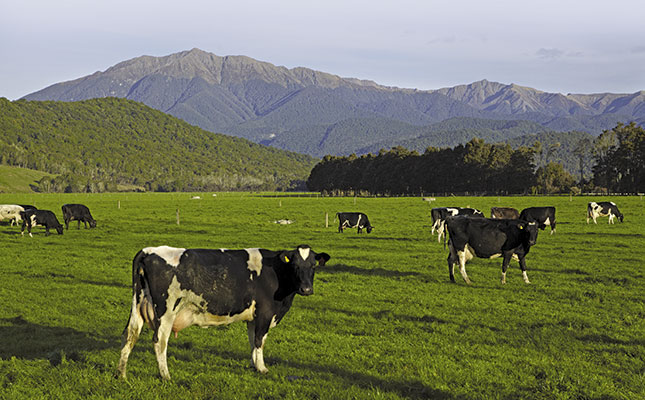 In general, dairy farmers use a twice-a-day milking regime, long regarded as the optimal system for milk harvesting. However, once-a-day milking has been used for some time as part of herd management strategies in New Zealand, and is becoming increasingly popular there.
Dairy farming is a tough job. The hours are long with few breaks, and the work is physically challenging. It demands focus, discipline and attention to detail. Given the economics of producing milk in a highly competitive free-market system, the dairy farmer must apply business skills and trend spotting to his repertoire. The farmers who have profited are at the cutting edge of cost efficiency, scientific advances and innovation.
The benefits of once-a-day milking
Once-a-day milking (OAD) can be used on various cow groups or on the whole herd, and can be timed to cover the entire season or part of it. It is a useful strategy to employ in times of feed deficit to improve cow condition and fertility, for first calvers, to save time, and to reduce work pressure on milking staff.
READ: Hygienic hand milking
Once-a-day milking will also allow a farmer to increase herd size with a small parlour and help manage long distances between parlour and pasture. Cost saving is another clear advantage.
"In New Zealand, labour is very expensive on a per-unit basis. In South Africa our labour costs are not as high, even though they're increasing," says Eastern Cape dairy farmer Johnny van Niekerk.
"But once-a-day milking means less wear on expensive infrastructure, reduced maintenance expenses, and savings on energy cost."
READ: Milking techniques
Other key advantages of the once-a-day milking system are the following:
Cows keep their condition as lactation progresses, reducing the problem of building condition in winter when feed supplies are low;
The improvement of post-calving condition, which translates into fertility improvement in a milking herd;
Less walking, especially when distances to the parlour are long. This helps prevent sore feet and lameness, thus increasing production and cutting vet bills.
New Zealand dairy research institute Dexcel reports that indirect cost advantages can be gained by bringing in land further away, or leasing land from neighbours that would not make economic sense for twice-a-day (TAD) milking.
Compensating
Research shows that once-a-day milking regimes yield 10% to 40% less milk than TAD systems, depending on production initiation and time of lactation. Losses in early lactation are at about 20%, and fresh cow feed intakes are no lower on OAD than on TAD. Because of these factors, dairy farmers must stay economically viable by implementing strategy-driven solutions to compensate for production losses on OAD.
The pricing structure in New Zealand means dairy farmers get paid for milk solid percentages, which are higher on OAD milking systems. In South Africa, milk buyers pay volume premiums for raw milk, with marginal benefits for solids.
Where solids start to count more, as in cheese-making, producers could benefit from OAD milking. Dairy farmers Johan and Willie du Plessis, say OAD suits their system because they get paid for solids.
"Milking once a day in the parlour means a reduction in concentrate intakes, which improves butterfat percentages," says Johnny.
The right cow
Dexcel has devised a ranking system for OAD suitability to assist farmers with selection of genetically 'fit' cows and bulls. Variable responses are often linked to breed, and Holstein-Friesians are thought to be less suitable for once-a-day milking than Jersey or Jersey-cross cows.
However, variability within breeds suggests that cows can be selected and 'bred-to-fit' for OAD systems. According to Dexcel reports, farmers' experience in New Zealand shows that a 15% increase in stocking rate with the right cows can produce a comparable quantity of milk solids/ ha on OAD milking.
"The New Zealanders reckon there's no nett loss with OAD milking," says Rob Ballantyne, also an Eastern Cape dairy farmer. "We took a knock in production, but can compensate by putting in more cows, and there are savings in feed and fertility."
Rob put first calvers into his OAD group, which meant that mastitis was not an issue. Dexcel also reported that mastitis was not necessarily a problem with OAD milking, but somatic cell counts needed monitoring in OAD groups.
"OAD works well in winter, when cows are stale (late in lactation) and farmers milk off a bigger platform with longer distances to travel to the parlour," says Johnny.
He agrees with Rob that first calvers and light cows are good candidates for OAD.
"When I had autumn calvers, I sent low producers to the far pastures and milked them once a day." Johnny has also used OAD as a breeding management aid.
"I sent non-cyclers to the bull and milked them once a day, no matter what their production was," he explains.
"In the presence of the bull, reducing production and energy requirements helps to initiate the cycle. Then I put them back into the TAD group."
According to the Dexcel report, reproductive performance generally improves on OAD, with high submission rates of up to 90% in the first three weeks, strong heats and better conception to AI. This helps to get the herd into a tight calving pattern.
New Zealand researchers are convinced of the value of breeding cows that perform well on OAD, and the country's farmers, some of whom have been using the method in their herd management strategies for some time, are certain that it is proving to be advantageous to cattle, margins and people.
This article was originally published in the 23 January 2015 issue of Farmer's Weekly.