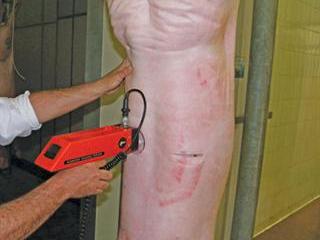 Conjugated linoleic acid is hardly likely to excite the interest of many people. Yet this unremarkable-sounding substance may be set to benefit millions of consumers as well as prove a massive boon to the pork industry. International research has shown that increased CLA levels in the human diet are linked with improving immune function, preventing cancer, reducing heart disease, improving blood sugar levels and reducing body weight.
Now research by doctoral students Cobus Ferreira and Carina Bothma at the University of the Free State has shown that CLA supplementation in pig feed results in an improved feed conversion ratio, carcass classification and meat quality – as well as elevating CLA levels in pork, and so benefiting consumers.
The big pig problem
"Humans have been eating pork for 9 000 years," Bothma explains. "In recent times, however, there's been a perception that pork contains excessive fat, saturated fatty acids and cholesterol. This has prompted breeders to develop leaner and healthier pigs. But as the pigs have become leaner, their fat has tended to become softer, causing problems for the meat processing industry. Products such as salami and bacon need firm fat.
Our research has found that adding CLA to a pig's diet firms up the fat as well as improving the quality of the pork." According to Ferreira, there is huge interest globally in modifying the fatty acid composition of muscle and fatty tissue to produce new 'designer' or 'functional' foods. As with other monogastric animals, the fatty acid composition in pork can be changed through diet. Thus it is possible to design healthier pork through dietary manipulation. This meat can then be marketed as 'nutraceutical' food offering perceived health benefits.
CLA can be produced by chemically processing plant oils such as sunflower oil. It can then be used as a direct dietary supplement for humans or as a feed supplement for monogastric animals, such as pigs and chicken, to enrich their meat. Interestingly, it is produced naturally in the rumen of cattle, sheep and goats, so meat from these species is a natural source of CLA.
Method
Bothma experimented with various levels of CLA in the diets of singly penned pigs and discovered that 0,5% CLA produced optimal meat quality. Ferreira expanded Bothma's work to a study under commercial conditions, using group feeding. He divided 144 pigs into an experimental group and a control group, each comprising an equal number of boars, barrows (castrated male pigs reared for slaughter) and gilts (young sows that have not farrowed). The animals were slaughtered at 70kg and 90kg liveweight. The experimental diet used 0,5% sunflower oil and 0,5% CLA while the control diet contained 1% sunflower oil.
Results
The research showed that the pigs on the CLA diet needed 0,1kg less feed than the control group did to gain 1kg in weight. "That's a significant percentage and represents a 3,26% increase in feed efficiency," says Ferreira. "In a commercial piggery, it could mean a marked saving on the feed bill. In the 70kg group, 89% of the CLA pigs were classified as P (70% lean meat in the carcass) and O (68% to 70% lean meat), while 81% of the control group pigs received this classification.
In the 90kg group, 61% the CLA pigs were classified as P and O, compared with 53% in the control group." The pigs on the CLA diet also had back fat iodine values of below 70. This value is an indicator of fat firmness: below 70 means that the fat is firm; above 70 indicates that it is soft. As mentioned before, firmer fat is better for making processed meat. Boars always have softer fat, followed by gilts and then barrows.
The results showed that the back fat from the CLA-supplemented pigs generally had lower iodine levels – in other words, better fat quality – than did the control group. With the exception of the 70kg boars, all the pigs on the CLA diet had back fat iodine values of below 70. Only the barrows in the control group showed iodine values of below 70.

Better Storage
Bothma and Ferreira made another important discovery: the feed containing CLA was less rancid after two months of storage than the control feed, thanks to the anti-oxidant properties of CLA. This is a significant finding, as the use of synthetic anti-oxidants in human food and animal feed is coming under increased scrutiny. Some synthetic anti-oxidants are suspected of being carcinogens.
Health benefits
According to the researchers, the higher CLA levels resulted in a decrease in mono-unsaturated acids and the fat content of carcasses. The saturated fatty acid level, too, was up, but this was due to an an increase in palmitic acid, generally considered a 'healthy saturated fatty acid' since it is not associated with increased blood cholesterol levels.
"This increase in saturated fatty acids must also be weighed up against the other health and nutritional benefits of CLA supplementation," says Bothma. "It can play an important role in preventing cancer, reducing heart disease, and improving blood sugar levels and weight loss because the CLA molecules are successfully deposited in the fat."
Bothma and Ferreira both work under the supervision of Prof Arno Hugo, whose current research includes investigating the manipulation of the fat component of diets of meat-producing animals to improve the technological and health properties of fat tissue. Prof Hugo stresses that CLA supplementation has important implications for meat production and quality, and especially fat quality.
"If South Africa wants to improve its competitiveness in the global meat industry, where competition is fierce and quality is non-negotiable, it must recognise these developments." Both students were bursary holders of the Meat Industry Trust. Their research was funded by the National Research Foundation and Red Meat Research and Development SA.
Contact Prof Arno Hugo on 051 401 2729 or email [email protected].