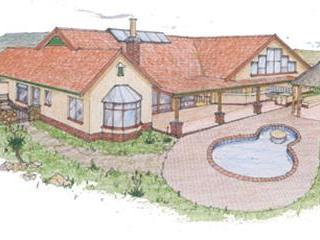 Hi Jonno
We are from Viljoenskroon and would like to build in an area surrounded by a 'hedge' of indigenous acacias. We want to use our own solar power supplemented with gas. The house must have as much natural ventilation, light and insulation as possible to minimise battery use. Summers are hot and winters cold so insulation is very important, and we will double glaze if necessary. Security is another important factor.
We would like a three-bedroomed house, perhaps with two wings and a central living area. The house must be spacious and light-filled but not rambling. We enjoy cooking and are happy to have an open-plan scullery and pantry area with laundry attached. We need two studies preferably not side by side. I would like an outside shower off the main bedroom and walk-in-cupboards. The other bedrooms can have built-in cupboards.
There should be a covered patio and a carport; no garage. A lapa, with a braai, fairly close to the house must be self-contained with a toilet and sink. I was toying with the idea of thatch, but both my sons suffer from hay fever. My husband feels we should use face brick. I haven't really looked at this.
Hope to hear from you soon.
Judy
Hi Judy,
Thanks for the detailed explanation of your new home requirements. The layout shown here is one that many of our readers would want; that is: two bedroom wings separated by the central living area. This allows for maximum privacy. The study next to the master bedroom could be a young child's bedroom if necessary. I've shown a stairway providing access to a dormer room in the wide area above the pantry/scullery and bedrooms two and three. There is space here for storage and games.
To meet the natural light requirements, the central living area and the kitchen/study (hers) areas are open beam. Light enters through the gable end windows and the apex skylight. The fireplace adds comfort and warmth. The master bedroom has a fully glazed bay window, but a set of inner foldaway doors can form a 'double glazed' barrier to keep the heat in.
Bedroom wings can be secured by way of security gates in the passageways. The braai area is convenient to the living/kitchen area, and I've included a swimming pool, just in case things get too hot. Judy, give me a call and I'll explain the brick or face brick option.
All the best for your new venture.
Regards, Jonno
Author John Smith, better known as Jonno, can be contacted at Hillbilly Homes, PO Box 255, Estcourt 3310, tel 036 352 3178, fax 088 036 352 3178, cell 082 412 4459 or email [email protected].
Please provide details of the proposed development and any building material you have access to.