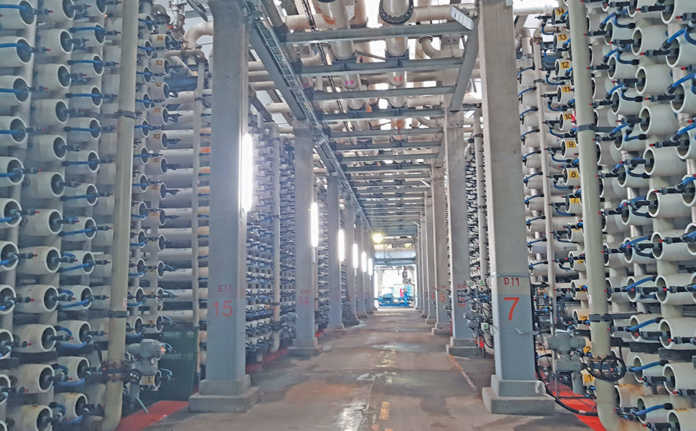 During a recent tour to farms and the AgriTech Israel exhibition in Israel, it was revealed that despite the large volumes of water used during irrigation, South Africa could learn from that country about managing water infrastructure.
"I was sent on a mission to find ways to use water more sparingly, but found that Israeli farmers on average used more water than South African farmers, because of the high salinity levels of the soils," Vinpro viticulturist Pierre Snyman said during a Winetech/Vinpro information day held in Stellenbosch recently.
Along with other members of the tour to Agritech Israel 2018 in Tel Aviv, which was hosted by Netafim, Snyman visited several farms and said he was disappointed with the large volumes of water used by Israeli farmers.
He explained that between 30% and 40% of irrigation water on the date, table grape and banana farms visited was used to flush salinity from the root zones of crops.
Willem Botha, marketing manager of Netafim, added that the latest trend in South Africa was for farmers to use drippers with a delivery rate of 1,6ℓ to 2,3ℓ per hour, while citrus farmers using continuous irrigation had reduced the rate to between 1ℓ and 0,7ℓ per hour.
In Israel, however, most of the farmers still used drippers with higher delivery rates.
Lessons learnt
Despite this, Botha said he still believed that South Africa could learn a lot from the way in which Israel managed its water infrastructure.
"Israel is a water-scarce country about the same size as the Kruger National Park. South Africa is struggling with rising pressures on its water resources, [with] volumes available for consumption decreasing from 17,8 billion cubic metres to 2018[fewer than] 13,4 billion cubic metres over the past decade."
About 2% of Israel's potable water comes from the Sea of Galilea, which is being threatened by rising salinity levels. This water also has to be pumped up to an elevation of 200m to reach certain parts of the country. About 15% of Israel's potable water comes from aquifers, while approximately 80% comes from desalination plants, Botha said.
"The country has switched from open dams to aquifers for water storage to prevent evaporation. What's more, they are practising artificial groundwater recharge to keep these aquifers 'strong and healthy', with supplies being augmented with flood water, potable water from the countrywide water system and treated waste water," he added.
According to Botha, both sea and other brackish water are desalinated, and there are six desalination plants along the Mediterranean coast and over 30 sites in the Negev Desert.
The Sorek plant near Tel Aviv has the capacity to produce 627 000m3 of water daily, 2018while the Hadera plant can produce 525 000m3 per day.
Waste water
The country also reuses about 400 million cubic metres of recycled water. On average, 80% of waste water is recycled, with all the waste water in Tel Aviv being treated and recycled.
The largest waste-water treatment plant in the country is situated in the Igudan Dan region, where 120 million cubic metres of municipal water are collected and treated every year, Botha said.
"The main goal with these plants is to minimise environmental pollution, prevent discharge of raw sewage, and contribute to protecting and preserving water resources."
Treated waste water is used on 70% of all irrigated agricultural land in that country, and is supplied to farms via pressurised pipes to reduce pumping costs, while strict health regulations govern where, how and on which crops recycled water can be used, Botha explained.