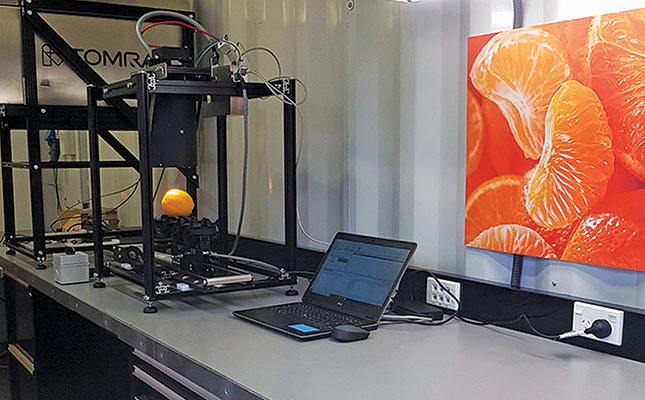 How did the need and the idea for the Field Research Unit (FRU) arise?
Compac provides integrated post-harvest solutions and services to the global fresh produce industry, using the world's most advanced grading technology. However, the demands of feeding the growing global population are driving the need to know more about each piece of produce as it is sorted in the packhouse and in repackaging centres.
By measuring other attributes, we can further improve sorting to optimise productivity, reduce waste and maximise customer value. One of the biggest challenges that developers of new equipment and technology for the food and agriculture sector confront is getting the type of data and information that can inform decisions about what new capabilities the market really needs from high-tech equipment.
A while ago, the president and CEO of TOMRA Food, Stefan Ranstrand, asked me what the biggest problem was for the citrus industry. Judging from the presentations given at recent international conferences and symposiums, I told him it was probably false coddling moth (FCM).
We realised that if we could find a solution that would enable us to visually sort and sense for FCM in fruit and remove the affected fruit before it is packaged for marketing, that would be a huge benefit to the industry. We decided about a year ago to make a big effort to find a solution.
We first tried to get fruit to our research and sensor development centre in Germany to analyse it using a spectrometer and other sensors, but getting fruit, especially if it was affected by FCM, to Germany, was very difficult. That is when we got the idea: if we couldn't get the fruit to the laboratory, why not take the lab to the fruit?
What are some of the FRU's capabilities and practical applications? 
The unique advantage of the FRU is that it can be deployed in-market, close to the source of produce, and at any stage of the supply chain, from the orchard through to the point of sale.
The data collected can be analysed to improve produce-sorting and decision-making throughout the supply chain, while helping to drive new technology research and future product development.
It's a state-of-the-art laboratory, equipped with benchtop spectrometers, hyperspectral imaging equipment, texture analysers, the new Compac Inspectra2 internal inspection system for fresh produce, and the TOMRA QVision optimised for protein, moisture and fat analysis.
A converted 12m shipping container is used to facilitate easy transport to hotspots where fresh produce needs to be investigated.
After its launch at the 10th Citrus Research International Symposium in the Drakensberg in August, the FRU was moved to Schoeman Boerdery, Marble Hall, Mpumalanga, where it was used for data collection for a period. This first FRU has been so successful that we are already looking at setting up another one or two.
Will the technology you hope to develop with the data make it easier for producers to access new markets by adhering to strict phytosanitary standards?
That is the ultimate goal. If we look at FCM, for example, it's a zero-tolerance pest, which means that an exporter risks having an entire shipment of fruit rejected if even one of these insects is found in a consignment.
If we can remove affected fruit with a high degree of confidence before the fruit gets packaged and shipped, itwill most likely open up some new export opportunities. Currently, the fruit has to go through two stages of cold sterilisation to ensure that it doesn't pose any risk of introducing FCM to the importing country and this adds to the cost for exporters.
If we can offer a better solution, that is, remove affected fruit before it gets packed, the need for some of the cold sterilisation will be eliminated. This will reduce cost and prolong the shelf life of fruit that has been negatively affected by cold sterilisation.
Food waste is a massive problem worldwide. The UN's Food and Agriculture Organization estimates that a third of all food produced goes to waste. What we're looking to do in our business is develop solutions in the fruit industry that can help producers recover fruit much more efficiently and effectively by making sure that more gets utilised and less thrown away. This can be done by developing the type of commercial solutions that can inform producers at an early stage how best to utilise fruit, for example whether it should be sold fresh or used for processing.
What is the timeline for developing this technology into a format that can be broadly implemented at farm level?
That is very difficult to answer. We're already analysing some of the data we've collected with the FRU. It will take time to evaluate all the data we're collecting, and we'll probably apply a number of different technologies to secure a solution.
It's a significant investment from our side and we have to continue working on this until we're sure that we have the right solution, and one that can be commercialised. At the moment I can't put a date on when this will happen; it is more important to make sure the commercial solution we ultimately offer is the right and most effective one.
What products and services does TOMRA currently supply to the South African agriculture industry?
Compac sorting machines have been in South Africa for approximately 15 years and there are now more than 500 lanes operating in the country. These are mainly in the citrus industry, but we do also have machines operating for tomatoes, apples, stone fruit and avocado.
With TOMRA's acquisition of BBC Technologies in the past year, we're also able to offer sorting and packing solutions for blueberries, cherry and grape tomatoes and cherries, including punnet and clamshell filling.
Other TOMRA equipment lesser known by fresh fruit producers are capable of bulk sorting beans, grains and even diamonds.