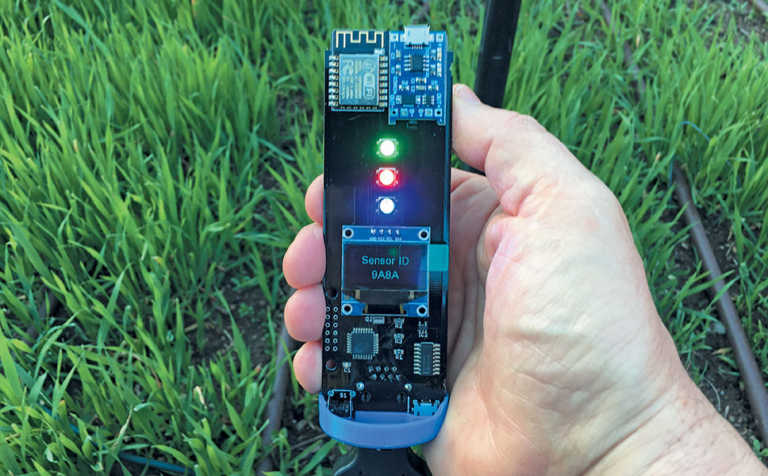 The Virtual Irrigation Academy (VIA) is a website where farmers can learn how to improve crop yields through better management of irrigation water, soil nutrients and salinity levels.
The Virtual Irrigation Academy (VIA) is a website where farmers can learn how to improve crop yields through better management of irrigation water, soil nutrients and salinity levels.The system introduces simple tools for managing irrigation more effectively through monitoring, observation, and experimentation.
The project is headed by Dr Richard Stirzaker of the Commonwealth Scientific and Industrial Research Organisation. Partner country project leaders include Dr Brian Isabirye of the Association for Strengthening Agriculture in Eastern and Central Africa; Dr Isaac Fandika, Malawi Department of Agricultural Research Services; Dr Eliakim Matekere of Tanzania's National Irrigation Commission; and Dr Joe Stevens of the University of Pretoria.
The project has brought together the University of South Australia, the South African Water Research Commission, and the International Crops Research Institute for the Semi-Arid Tropics (ICRISAT).
The long-term aims of the project are to increase productivity and profitability through better management of water and nutrients on smallholder irrigation farms; sustainable water and salinity management; and improved return on investment from irrigation infrastructure.
The Importance of irrigation Adam McCarthy, Australian High Commissioner to South Africa, says that wider irrigation implementation could contribute significantly to food security in sub-Saharan African countries. However, major difficulties have been experienced in earning an adequate return on investment from irrigation in Africa.
Water governance institutions are weak, and irrigated land is often significantly degraded or abandoned.
"There are lessons that Africa can learn from Australia. Australia is an arid continent, but given its size, we also have tropical and subtropical areas," McCarthy explains.
"Our agro-ecological conditions are closely comparable to those in many African countries. Australia is also affected by the El Niño and La Niña weather systems and we share your droughts. In fact, water is an existential issue for Australia.
"Research is needed to increase water-use profitability and prevent or reverse environmental degradation in current and newly irrigated lands."
Background to the project
Dr Martin Moyo of ICRISAT says that in a regional project in Mozambique, Tanzania and Zimbabwe, research is being carried out on the use of innovation platforms to address factors constraining development, and provide policy ideas for improved water governance.
According to him, an independent review found the project to be successful; it has given farmers the knowledge and confidence to source better quality and cheaper farm inputs and reduce water use, among other benefits.
The virtual irrigation project is a follow-on research project to test how to spread the findings from the first project to other irrigation schemes and countries.
"Following the work in Mozambique, Tanzania and Zimbabwe, many lessons have been learned regarding the design and construction of irrigation infrastructure. And we know that the skills to capitalise on this infrastructure are in short supply."
How it works Stirzaker explains that the VIA combines new irrigation monitoring tools with an online communication and learning system.
The VIA has several roles:Capturing daily physical data from the schemes, so that project and country leaders can understand the situation and mentor extension workers;
Capturing dialogue between farmers, extension workers and scientists for analysis of how learning occurs;
Creating resources such as videos on equipment installation and maintenance, interpreting data, and documenting success stories.
"The monitoring tools have been designed to fit the mental model of farmers and give an output that is linked to action," says Stirzaker.
"Information on soil water status, nitrate concentration and salinity levels are illustrated by colours that represent an action threshold. These colours are displayed on the VIA platform website and are used as a basis for social learning among the irrigation community.
The monitoring tools behave like a chameleon. Our monitoring tools also show soil water, nitrate and salt levels in the soil by changes in colour. "We call this a 'Virtual Academy' because sensors are buried on farms around the world and the data is displayed on this website.
Each crop that is grown and monitored provides a unique colour pattern of water, nitrate and salt from which we can learn."The fundamentals of the VIA are now in place and being evaluated by third parties.
This includes purchasing equipment from the VIA shop, using instructional videos, automatically uploading data to the website, and visualising data.
"Most users are still on the manual reader system, while we determine how well the automated reader works across the different countries with different mobile carriers and coverage.
We're also developing a manual data upload facility for the website to capture all the historical data," explains Stirzaker.
The project began on 1 June 2015 and will run until 31 May 2019. The budget allocated to it is $2,95 million (about R39 million).
SA connection
In South Africa, the project is currently being tested on Compagniesdrift onion farm in the Western Cape; Mayo Estate Macadamia, Summerford Macadamia and TSGro Sugarcane in Mpumalanga; and Bosele Groundnuts, Ipelegeng Groundnuts, Pudimoe Maize, Reaitlhoma Maize and Tshidiso Maize in North West.
For more information, email Dr Ivan Christen at ACAIAR, at [email protected]. Visit via.farm.