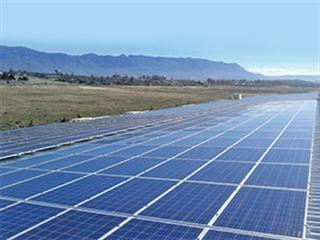 Global use of solar energy continued to grow significantly in 2012, and judging by the number of large-scale solar installations on farms in the Western Cape recently, farmers are keen to invest in cost-saving, sustainable technology.
According to a report released by the Worldwatch Institute – an independent research organisation in the USA – in 2012, global solar power consumption increased by 58% to 93 terawatt hours (TWh).
The global solar energy capacity continued to grow even though new investments declined during 2012. Global investment was US$140,4 billion (R1,4 trillion), an 11% decline from 2011, but according to Worldwatch, total installed capacities grew sharply, thanks to lower costs.
Solar Power in South Africa
After recently installing solar energy systems for Bosman Family Vineyards, Ceres Koelkamers, Rooibos Ltd and fruit producers Timberlea Farming Trust, SolarWorld Africa has started installing Southern Africa's largest agricultural rooftop photovoltaic system for Ceres Fruit Growers (CFG). Once installed, it will be capable of generating 1,015MWp (megawatt peak).
The SolarWorld group is one of the foremost manufacturers and suppliers of solar power systems in the world. According to Gregor Küpper, SolarWorld Africa's managing director, the installation of a 1MWp photovoltaic (PV) system at CFG marked an industry milestone. He said that agribusinesses were starting to appreciate the long-term advantages of investment in renewables – both environmental and economic benefits.
In comparison with other types of energy, solar power provides calculable, 25-year maintenance-free yields. The system at CFG will consist of 4 060 SW250 SolarWorld polycrystalline panels installed on four north-facing roofs of the cold rooms. The system will supply CFG's electrical grid with power which will be largely consumed by the refrigeration compressor rooms during peak season.
CFG handles more than 110 000t of apples and pears annually, with cooling, packing and marketing carried out according to client requirements. The premises are spread over 54ha and comprise more than 100 cold stores. "The major reason influencing our decision to install a renewable energy solution of this size was to fix a part of our electricity costs, considering the expected tariff increases in the future," said managing director Francois Malan.
"On 28 February, the National Energy Regulator of South Africa (Nersa) announced that Eskom's electricity tariffs would increase by 8% per annum. However, the individual increases by Eskom and the municipality suggest an average increase of at least 11% for our business. Taking into account the fact that our operations consume about 29 700MWh of electricity annually, the solar installation will result in considerable savings for us." The solar system at CFG is expected to generate approximately 6% (1 690MWh) of its annual electricity consumption, reducing its carbon footprint by 1 622t per annum over the next 25 years and longer.
Installations
Earlier this year, SolarWorld Africa, together with their distribution partner African Technical Innovations, installed a 508kWp, roof-mounted PV system consisting of more than 2 100, SW240 poly PV panels with a combined surface area of 3 800m2 for Ceres Koelkamers. The installation was expected to generate 848 000kWh per year for cold storage facilities. Küpper said that Ceres Koelkamers consumed about five million kWh per year and the installation would save 17% of its annual electricity bill, offsetting carbon emissions of over 800t of CO2 per year for more than 25 years.
Managing director Francis Matthee said that Ceres Koelkamers had opted for solar power because the area did not have water or wind in great supply. However, the region did enjoy a high number of sunshine hours. The installation at Bosman vineyards is expected to generate 147 871kWh per year and will offset carbon emissions by more than 141t. Timberlea Farming Trust installed a 127kWp installation that is expected to subsidise 30% of the farm's total electricity need and save 213t of carbon emissions per annum. The manufacturer of BlueJay branded fruit and fruit juices, it comprises nine farms producing
13 000t of stone, pome and citrus fruit per annum. "Energy reduction and efficiency management form a major part of our business functions and we believe they are a definite contributor to our success in running a viable enterprise," said Sandra Jeffery, operations manager of the BlueJay Group. "Without implementing resource-friendly initiatives, the future of the industry could be affected."
Environmental sensitivity
Rooibos Ltd, which holds a 70% global market share in rooibos tea production, installed a 511kWp solar system on the rooftops of its storage facilities. "At Rooibos Ltd, we always strive to demonstrate sensitivity to the impact of our activities on the natural environment. With our production facility located in Clanwilliam, we have a high percentage of sunny days. Therefore the generation of renewable energy is ideal," said managing director Martin Bergh.
"Approximately 40% of our production facility's electricity requirements will be generated through this installation and by using solar energy in the production process, we'll decrease our carbon footprint dramatically." The installation was expected to subsidise electricity usage by 43% and reduce CO2 emissions by over 840t per year.
Pump water
Küpper said popular applications included solar-powered water pumps. SolarWorld recently partnered with Solek Renewable Energy Engineers of Stellenbosch to complete an off-grid, ground-mounted installation consisting of a series of three-phase AC submersible pumps operated directly from an array of solar PV panels. The system, installed at Amanteco almond farm in the Montagu region, is capable of delivering in excess of 200 000l of water per day and has variable speed pump controls.
Contact Claire Lockey on 021 421 8001 or [email protected]