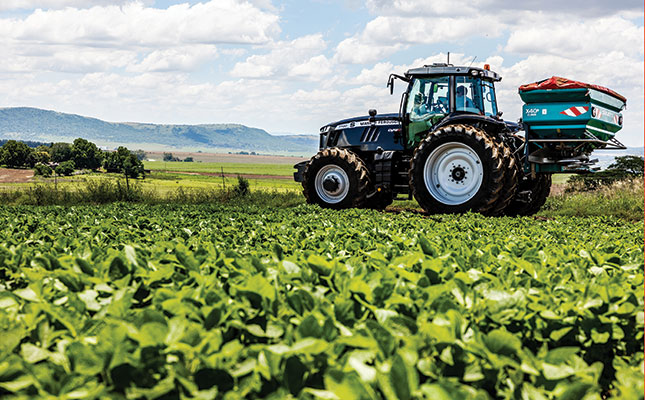 Dieter Schroder, owner of DT Farming Trust in Winterton, KwaZulu-Natal, and his son-in-law Ross Braithwaite were in the market for a new tractor for their recently acquired 3t fertiliser spreader.
So they turned to Drakensberg Agricultural Services (DAS), the Massey Ferguson (MF) dealer in the Bergville and Winterton areas, explained their specific farming requirements, and asked for expert advice and guidance.
What followed was a textbook example of MF's highly customised AGCO ASK system in action. Schroder established the farm Noodhulp in 1989 as a mixed farming operation.
"Back then, I was leasing the land mainly for grazing for beef farming and a bit of cropping.
"In time, our needs grew, and so did our requirements for mechanisation. "A few years ago, the ongoing drought forced me to look at irrigation farming and our equipment needs changed. We currently have about 1 100ha under irrigation," says Schroder.
Braithwaite explains that DT Farming Trust, which has always had a variety of machines
in its fleet, recently had an urgent need for a new tractor. Unable to find one that could fulfil their unique requirements as well suit their pocket, they turned to DAS.
DAS used the AGCO ASK system to customise a tractor that met Schroder's and Braithwaite's precise needs.
The system is a dealer tool that incorporates an easy-to-use 'configurator' that selects key tractor components according to the customer's specific requirements, even down to the colour of the tractor.
After a consultation between dealer and customer to come up with the specs for their new high-horsepower tractor, DAS placed the order at the Beauvais factory in France. Both customer and dealer received weekly updates on the build process, and just 12 weeks later a striking black, customised MF 7720 S arrived at the Durban harbour!
Specific requirements
Sven Rohrs, co-director of DAS, ascribes the flexibility of DAS in being able to meet specific farming requirements to specialised tools such as the AGCO ASK system, which priorities the farmer's needs. It also demonstrates AGCO Africa's ability to better serve dealers and customers, he says.
AGCO changed from a three-tier distribution model to a direct-to-dealer distribution model for South Africa in late 2020.
"There are fewer middlemen and a direct interface with AGCO Africa and our own customers. When a customer is prepared to invest a good amount of money for a new
piece of equipment, it's critical to specify, from the outset, the terms of the application and the customer's preferences," says Rohrs.
Tyre size
Rohrs adds that the AGCO ASK system used to specify the high-horsepower MF 7700 S series enables a dealership like DAS to be fully responsive to specific customer requirements, from tyre size to hydraulic oil flow and different guidance options for precision farming.
The specific model acquired by DT Farming Trust features the trusty AGCO Power 6,6-litre six-cylinder engine, which has come a long way since the MF 6400 series with a Sisu engine, and, in particular, the single row shutoff used on both maize and soya bean planters.
"More and more farmers are moving to precision farming," notes Rohrs. For example, Noodhulp has single-row shutoff on its soya bean crop.
DT Farming Trust's major requirement when approaching DAS was for a six-cylinder tractor powerful enough to pull its 3t spreader.
Another differentiator for MF is its high hydraulic flow and pickup capacity on the rear linkage, which makes for smooth handling over any contours.
MF has made major changes to the guidance and precision farming systems of the S series, one of the most technologically advanced tractor ranges on the market today. It features a Fieldstar 5 terminal with a Trimble 382 receiver and full RTK unlock for an accuracy of between 3,2cm and 3,8cm. Full guidance ISOBUS allows for intuitive section and rate control.
"The spreader was plug-and-play installable within minutes and works like a dream," says Rohrs.
Inside the cab
The cab layout features a terminal for precision-control functions on one side and the tractor controls on the other to assist the driver in distinguishing between the two operational aspects. Another novel feature is the multi- pad, multifunctional joystick.
The multi-pad lever controls the rear linkage, power take-off, headland management, spool valves and cruise control, as well as operating the transmission. All operations are easily at hand for greater comfort.
Visit agcocorp.com