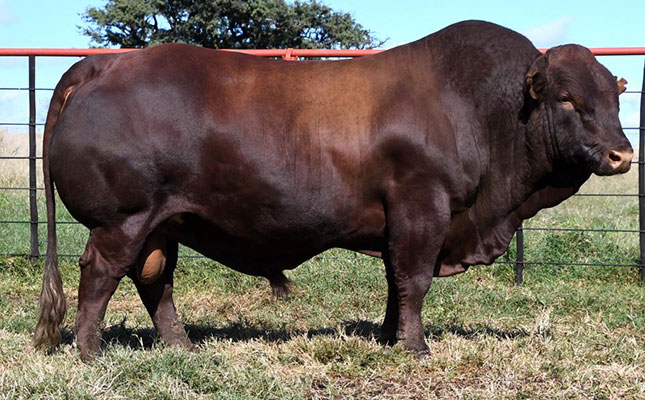 The sale was held in Stella, North West. The bull was sold to Baszohn Bonsmaras, owned by cousins Eben Basson and Wessel Ebersohn, in Mooi River. Baszohn Bonsmaras also bought the second-highest priced animal of the day, the bull BBM 18 25, which was sold for R1,3 million.
READ Limousin bull sold for a record R1,2 million
Basson and Ebersohn also bought the highest-priced female animal of the day, the 3-in-1 cow BBM 13 181, which was sold for R650 000. According to Ebersohn, the stud was only registered a year ago.
"We have been farming Bonsmaras [commercially] since 2010, and it's important for us to take our herd's genetic potential forward. [We] can only do that if [we] have the best bulls at [our] disposal."
Phillip Poggenpoel of Poggenpoel Molopo Bonsmaras said he was thankful and humbled by the success of the auction. "This really is not about money for our family. For us it remains an honour to farm animals."
Louis Steyl, breed director for Bonsmara SA, said the record-breaking bull was an exemplary specimen of the Bonsmara breed.
"At his first selection, he received a mark of nine out of nine. This really is one of the top bulls within the breed. His breeding values also indicate that he has exceptional genetic potential.
In short, his build, breeding values and [lineage] have all worked together to create an exceptional animal."
Steyl told Farmer's Weekly that every breeder had his or her own genetic goals, which meant that the same animal would not necessarily be equally attractive to all breeders.
READ Are top-priced genetics really worth it?
"However, in a free-market system, such a high price definitely indicates that there was a lot of competition amongst bidders." Steyl added that paying such a high price for a bull could well be worth it in the medium term.
"In 2018, bull LAR 14 173 was sold for R1,8 million. Last week, 23 of his sons were sold at an average price of R125 000 per bull. Thus, [the bull earned] nearly R2,88 million in a single auction. And we're not even talking about his daughters and their calves."
WORLD RECORD PRICE R2 100 000.00 for a Bonsmara bull from Poggenpoel Bonsmaras, Stella;NW📌 pic.twitter.com/v4ps6ZnS9C

— Thabo Dithakgwe (@ThaboDithakgwe) May 31, 2022