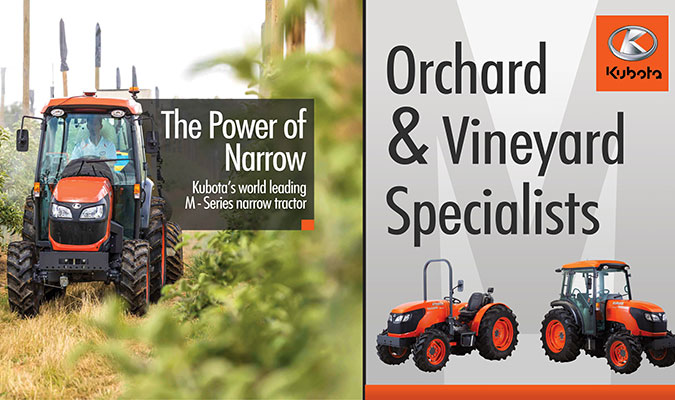 Kubota has invested in a drive to make improvements in its aftersales offering and product range.
Its South African distributors, Smith Power Equipment, has worked closely with the company to develop tractors to suit South African conditions.
Kubota's flagship M-Series narrow tractors are for orchard and vineyard farmers who want a powerful, efficient, low-noise and low-vibration narrow tractor to maintain and harvest their crops.
With a line-up of 52kW to 63kW engines, there's a lot of power to pull flail mowers, rotary cutters, spray tanks and trimming equipment, and to push harvest bins in steep terrain.
"The small stature of the narrow tractors helps farmers harvest their crop with less damage to trees, vines and fruit, enabling higher yields and a larger return on their investment," says Tom Bloom, director for Smith Power Equipment and Kubota tractors South Africa.
With the size and power of the M-Series tractors, Bloom says farmers can more easily maintain their crop, orchards and vineyards throughout the year, and more efficiently work their land.
For additional clearance, the ROPS (situated in the middle of the tractor) on the M7040 and M8540 narrow open stations, can be folded down to avoid hitting low-hanging branches and fruit.
At 1 410mm (M7040)/1 430mm (M8540) tall and 1 315mm (M7040)/1 520mm (M8540) wide, the compact, 4WD, open-station M7040/M8540 can easily manoeuvre in and around trees or vines without damaging low-hanging branches or high-value fruit.
In its base configuration, the M7040 open station has a 41,6l/minute hydraulic flow rate. It has synchronised four speeds of the main shift and a high/low range supplied with eight forward and eight reverse speeds.
The M8540, used for heavy-duty work such as spraying, ploughing and heavy trailer applications, comes with a 10-forward, 10-reverse transmission.
An optional cassette creep speed kit gives the M7040 12 forward and 12 reverse and the M8540 15 forward and 15 reverse speeds.
Kubota's exclusive bi-speed turn feature rotates the front wheels at a rate of speed nearly twice that of the rear wheels whenever the front wheels exceed a turning angle of 30°.
The result is a smoother, tighter turn, allowing you to enter an adjacent crop row on your first attempt. This helps to significantly reduce surface damage and reduces fuel consumption. Bi-speed is automatically cancelled when travelling at high speed.
Kubota has been in South Africa for many years; Smith Power Equipment has been the distributor for nearly 20 years and has built up a dealer network and customer base amongst competitors.
Visit kubotasa.co.za for more information, or call 011 284 2000 for assistance or to set up a demonstration in your area.