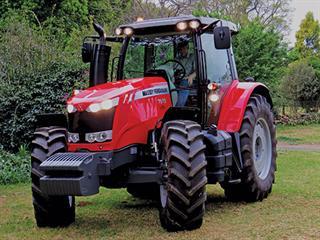 The versatility of the new Massey Ferguson 7600 series allows farmers a choice of options, regardless of the nature of the operation. Nicholas Aldous of Selsey Farm in KwaZulu-Natal's Dargle area, who recently took delivery of a MF7615, reckons the tractor will be crucial in helping him introduce large-scale production of quality hay on his parents' stud farm.
The four-valve, common-rail AGCO Power turbocharged and intercooled engine is rated at 103kW. The cooling package is easy to maintain and clean, with most of the dust removed by suction from the cooling fan and the design of the air inlet. This means that the air filter element has a much longer service life. The air filter for the cab is also easy to remove for cleaning. You can start early and work into the night at peak times, with eight working lights on the cab roof, two on the rear fenders, two on the hand rails and four in front of the bonnet.
Dynamic performance
The Dyna-6 transmission combines effortless operation with efficiency. Features include left-hand power control, auto-drive, speed-matching and variable shuttle take-up. The transmission provides a smooth, six-speed Dynashift change in each of the four gears, giving 24 forward and reverse ratios with nine speeds between 4km/h and 12km/h.Both Dynashift and range changes can be made under load, without using the clutch pedal!
Roomy & comfortable
Comfort and efficiency are important when it comes to cab design. As Nicholas and Larry demonstrate below, the latest MF cabs offer generous space, easy access and excellent ergonomics. Sound levels are remarkably low too, even at optimum engine speed.

All-round visibility
A combination of side exhaust position, narrow- waisted bonnet design and large glass area provides 360° visibility, with the rear window giving a clear view of attached implements.
Control console
Nicholas demonstrates the controls on the side pillar operating the work lights, beacons and electronic rear linkage adjustment. A new dashboard design allows the driver to focus on monitoring operating functions, such as engine speed, tractor speed and temperature.