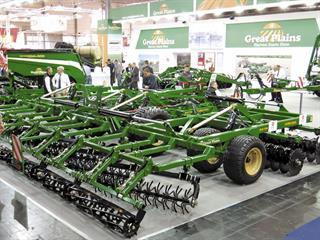 US-based Great Plains Manufacturing and UK-based Simba International joined forces in 2011, and Great Plains has been gaining strength ever since. The company's latest offerings include the following:
The complete package
The 8.0 TM Turbo-Max, the latest version of Great Plains' most successful vertical tillage implement, has a working
width of 8m and a transport width of 3m. Used primarily as a seedbed preparation tool ahead of planting or drilling, it has two gangs of 510mm coulter blades with a patented, hydraulically adjustable gang angle system and a choice of rear roller options.
Great Plains describes the Turbo-Max as "a complete vertical tillage package designed to solve the problem of uneven fields caused by sprayers, combines and other heavy machinery". It leaves a level sub-surface, eliminating planter bounce, a major contributor to uneven germination and ultimately reduced yield.
Working depths of up to 125mm can be achieved, while a unique depth stop feature allows the operator to set hydraulic flow to stop at the same working depth each time the implement is lowered.
Going deep into the soil
The Simba SLD 460 cultivator has a row of serrated discs ahead of the tines, with a second row following the tines ahead of the DD roller to chop and mix the surface trash. Each disc is mounted on a ProActiveleaf spring, allowing better contour following and improved stone protection.
The working angle can be adjusted using a track rod system operated by a single handle. All models are available with either notched or SoilRazor disc blades.When equipped with Pro-Lift hydraulic reset tines that work down to depths of up to 300mm and a DD rear roller, the SLD leaves an excellent, level finish, while also performing an effective loosening operation.
Low disturbance tines are an option. These cultivate and restructure the soil at depth in the root zone without disturbing any weathered tilth from the surface. The soil is consolidated at the rear of the machine with the DD roller.
Manufactured from boron steel for an extended working life, the roller features 700mm diameter rings at a spacing of 230mm. This arrangement firms the ground to depth and leaves a fine, level tilth. A lower scraper between each pair of rings minimises blockages in damp conditions.
Accurate seed placement
The Spartan 607 has a working width of 6m (folding down to 3m for transport) and comes with either a single seed-only 5 280l hopper or two 2 885l hoppers for seed/fertiliser applications. It can also be specified with a dual seed and liquid fertiliser option. An infinite ratio gearbox is standard and an optional variable rate drive enables metering rates to be changed from the tractor cab.
The openers perform well in all soil types, while 380mm x 4mm offset double disc blades ensure an accurate and well-formed seed slot. Optional front coulters prepare a 30mm to 50mm strip of finely cultivated soil and can be set to 250kg of downward pressure to enable direct seeding if the need arises.
Minimal soil disturbance
The Saxon CDA-400 seed drill has been developed to meet the increasing need for minimal disturbance and a drill that can cut through and drill into a high volume of residue.
The Saxon drills are highly effective in reduced tillage establishment systems and across a wide range of soil types and conditions. They can operate efficiently for no-till establishment where the soil structure allows.
The new drills are available in 3m and 4m widths.
Joe Spencer is the mechanisation editor of Farmer's Weekly.