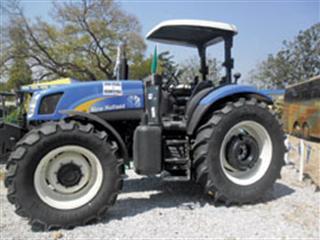 Danatrac Limited, New Holland's official distributor in Zambia, made its debut in August at the 86th Agricultural and Commercial Show in Lusaka, where it showcased New Holland's versatile and fuel-efficient tractors. Especially popular was the New Holland T6050. With a 6-cylinder 6,7l turbocharged and intercooled FPT engine rated at 93kW, this versatile mid-sized tractor delivers
outstanding power, performance and fuel economy.
And it's ideal for arable crop producers, as well as dairy and livestock farmers. Danatrac is a subsidiary of Dana Holdings, which has been operating since the early 1980s. In this time it has established a sales and support organisation covering the entire country. "New Holland is committed to supporting Zambia's agribusinesses and mechanisation processes with a wide offering of advanced and reliable agricultural equipment," said New Holland's business manager for Zambia, William Murengami.
"The partnership with Danatrac represents an important step in this direction, and I'm convinced our new partner has growth prospects far beyond expectations. "The enthusiasm for New Holland's products shown by visitors during the show was very rewarding," added Murengami.
An award winner
The Danatrac stand displayed a selection of New Holland's tractors, including the TT series ranging from 41kW to 56kW, and noted for its ruggedness, reliability and excellent torque characteristics. Models from the TD series straddle mount tractors, ranging from 44kW to 73,5kW, and ideal for mid-sized farms, were also on show. The stand received an award for being one of the best at the Lusaka Show.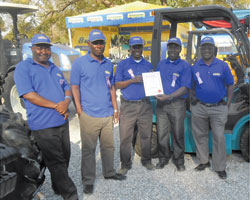 Danatrac's commercial team received an award for having one of the best stands at the Lusaka Show.
A popular workhorse
The New Holland TT55 is a 41kW tractor with an 8×2 transmission powered by an Iveco 3-cylinder engine. It's an excellent workhorse for all the general jobs on small to medium farming operations, as with this New Holland small square baler.