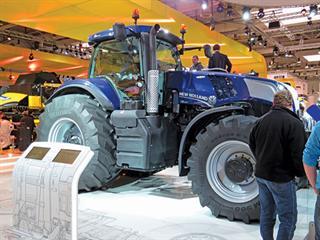 Agritechnica's Machine of the Year is awarded by a committee of journalists from Europe's pre-eminent machinery publications. The judges decided that the winner for 2014 was the New Holland T8.420 Auto Command, as this 314kW continuously variable transmission tractor offered the best in-field performance in high speed cultivation tasks. This, they explained, made it ideal for large-scale crop farmers and hay and forage contractors. "This new tractor, with its stepless Auto Command transmission, longer wheelbase and even more power on tap, is set to improve its already impressive all-round performance," said one of the judges.
Read: AgriTechnica highlights
The T8 series
There are six models in the T8 series, with output ranging from 205kW to 314kW. The tractors are powered by ECOBlue SCR Cursor 9 engines, with Tier 4A emissions compliance. New Holland has tailored its Auto Command transmission for the T8 range to match its dimensional and usage profile exactly. The four modes of operation controlled by Auto Command – 'Auto', 'Cruise', 'PTO' and 'Manual' – optimise task or fuel efficiency. All transmission functions are grouped in one place for a seamless power application.
Read: Agritechnica gold medal winners
When working in Auto Command mode, the operator selects the desired working speed, and the engine speed and transmission settings are adjusted automatically to achieve the most efficient performance for planting, tillage, baling or road transport. The T8 Auto Command is available in 40km/h ECO and 50km/h options, so operators can reach top vehicle speed at lower engine speeds if loads permit (1 400rpm and 1 725rpm respectively).
CommandGrip handle
The Auto Command transmission uses intuitive force-based logic and is controlled via the ergonomic CommandGrip handle, identical to the one found on T7 Auto Command models.