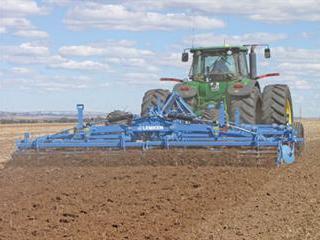 Last November at the Agritechnica Show in Hanover, Germany, we were told Lemken was about to open a subsidiary operation in Southern Africa. Now Lemken SA, with SA's Karel Munnik as managing director, is fully operational, and the Lemken range will be on display at Nampo.
Lemken machines aren't entirely new to SA, having been imported by a dealer in Stellenbosch, Western Cape for a number of years, but the company feels it can gain a larger share of the market with its own operation. Karel recently organised a demo of the range at the Agritrans facility near Frankfort in the Free State for sales personnel from Senwes, but it was also attended by a number of local farmers.
One of the items on display was the model 9/600KA Karat 9 cultivator, which has 21 tines and six discs. The optional maintenance-free automatic safety device allows the tines to move upwards and backwards when they encounter obstructions.
In the demo, the following rollers left a perfectly level seedbed cultivated to an exact depth with the entire crop residue thoroughly mixed.

The Karat 9
The Karat intensive cultivator is suitable for initial all-over stubble cultivation up to 300mm deep after combining, as well as deep intensive mixing to incorporate crop residues at a later date. The 6m working width models fold hydraulically for transport.
The Rubin 9
The Rubin compact disc harrow guarantees intensive uniform mixing of organic matter and soil to a depth of 5cm to 15cm. The cutting angle of the discs and the downward pressure of the overload springs on each disc ensure penetration even in hard ground. It's highly suitable for shallow stubble cultivation at high speed with 620mm concave discs overlapping between rows to move all the soil, even when working at a shallow depth.
The Rubin 9 also folds hydraulically for transport. Each row of the scalloped discs has height and angle adjustable rebound harrows controlling the soil flow and helping to ensure a thorough distribution of crop residue. Individual discs are mounted on hinged legs with overload protection via robust coil springs.
For more information on the equipment mentioned in this report, contact Auriel Mitchley at Farmer's Weekly on 011 889 0796 or email [email protected]