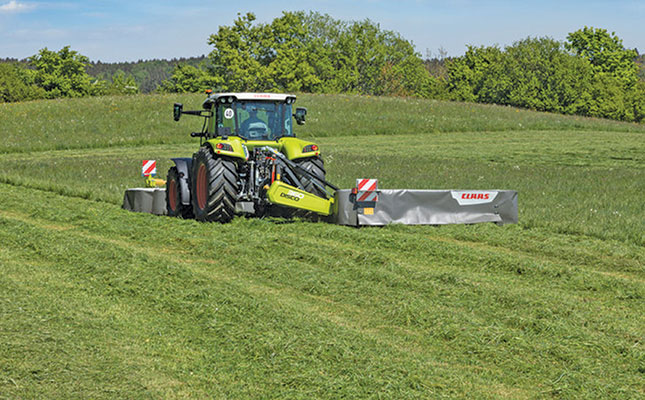 CLAAS has introduced two new ranges of rear mower that feature a centre-of-gravity side-mounted system. The ranges, the DISCO 10 and DISCO 100, comprise seven brand-new models that cover working widths of 2,2m to 3,4m.
A new feature for all side-mounted DISCO disc mowers is a centre-of-gravity hitching system, which ensures that the mower bed maintains uniform contact pressure over the entire working width.
Disco 10 series
In the entry-level segment, CLAAS offers three new models in the DISCO 10 series: the DISCO 32, 28 and 24 side- mounted mowers with working widths of 3m, 2,6m and 2,2m respectively, each with the MAX CUT mower bed.
According to CLAAS, a unique feature of the MAX CUT mower bed is that it is constructed of two pieces of bolted, pressed steel plates, providing higher torsional strength with less risk of cracking caused by welding heat stresses.
MAX CUT features a waved shape leading edge. This enables the cutting discs to be mounted close to the front of the bed, which, in combination with the new, specially formed discs, provides a greater overlap between the blades, creating an enlarged cutting area for optimal cutting quality and flow through the mower.
To achieve a clean cut and avoid soil contamination, extra-wide skids are fitted to the underside of the mower bed for guiding dirt and foreign material rearward.
Disco 100 series
The new DISCO 100 series, which comprises the DISCO 360 (replacing the 3450) and the DISCO 320 (replacing the 3150), are straight mowers with a working width of 3,4m and 3m respectively. Both models are fitted with new mechanical centre of gravity and suspension springs that are adjustable without tools to ensure that the mower follows ground contours accurately.
A compact, Fast-folding transport harvester
CLAAS has announced improvements to its top-of-the-range model in its line-up of ORBIS row-independent front attachments for the JAGUAR self-propelled forage harvester. Stand-out features include a transport width of only 3m and a new, automatically folding transport protection with integrated lighting.
As with the ORBIS 750, the frame of the new ORBIS 900 consists of five parts. This
ensures rapid folding and results in a highly compact design without significantly
compromising visibility to the front or sides. These features enable a transport speed of 40km/h to be maintained safely.
During folding and unfolding, the integrated transport protection with warning stickers and lighting automatically pivots into the appropriate position for road travel or field work.
The flat mounting angle with two different positions and the particularly flat design make
it possible to attain stubble heights as low as 85mm.
These characteristics, and the use of both small and large three-stage transport discs, mean that the ORBIS 900 can be used to harvest not only maize, but crop silage too. It is also suitable for low-growing, low-yield crops.
Large discs immediately ahead of the feeder unit ensure that even large crop volumes can be handled reliably.