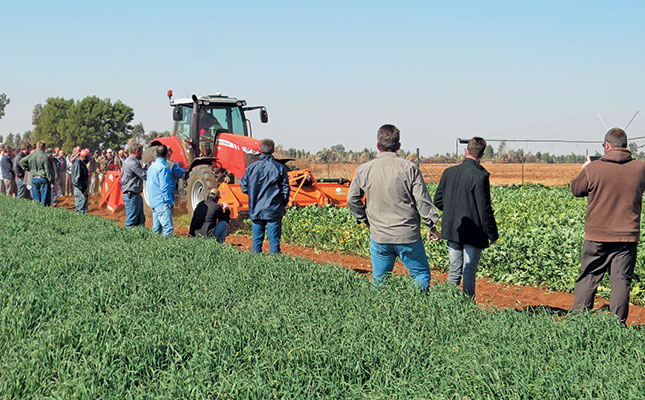 Now that they have an established format, with something of interest for everyone, the Rebelo Agricultural Machinery Group will make the Farmers' Day a biennial event, says company owner, Jose Rebelo. This year, the focus was on no-till and min-till operations.
Mulching and incorporating a green manure crop
Together, Specialised Farming (JSF) and Rebelo Agricultural Machinery Group (RAM), demonstrated the mulching of a green manure crop with a 3m-wide, front-mounted Struik LKFA chopper, incorporated with a rear-mounted Farmax LRP 300 rotary spreader (Above).
With both machines mounted on a Massey Ferguson 7624, this was a 'one pass' operation.
The crop in question was Bladrammenas, an annual leafy radish-type vegetable used for soil improvement.
Planting into stubble
To illustrate the potential for no-till, a specially modified Ferrari transplanter from RAM placed seedlings directly into the residue left after one pass of the Struik chopper, without incorporating the residue. Probably not a practical operation, but it certainly illustrated the possibilities.
Using a disc harrow to incorporate a green crop
The Valtra N143 tractor easily pulled the 4m-wide Pöttiger Terradisc at speed.
It was still accelerating at the end of the plot, but did an excellent job of incorporating the green manure crop.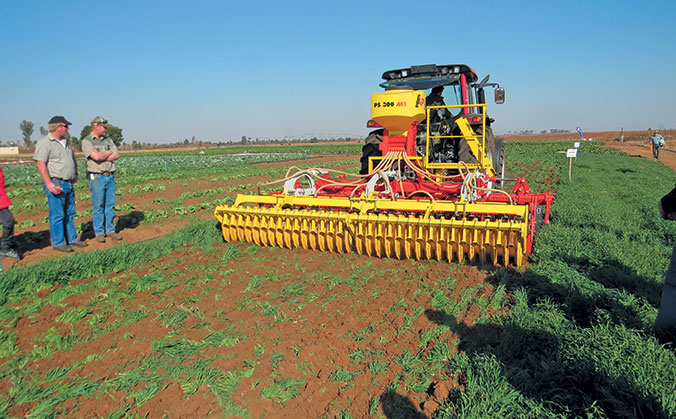 The APV PS300 air seeder unit mounted on top of the Terradisc can simultaneously plant a cover crop or spread snail bait or conduct a similar task.
Cultivating and bedforming
A Fendt Favorit 515C tractor was hitched to the Struik RF200 with a bedformer. This Netherlands-based company has been designing and building specialised soil preparation equipment since 1934. In SA, the name has become generic among vegetable farmers, and it's not unusual to hear them say, "Die land was gestruik" (the land was 'Struiked).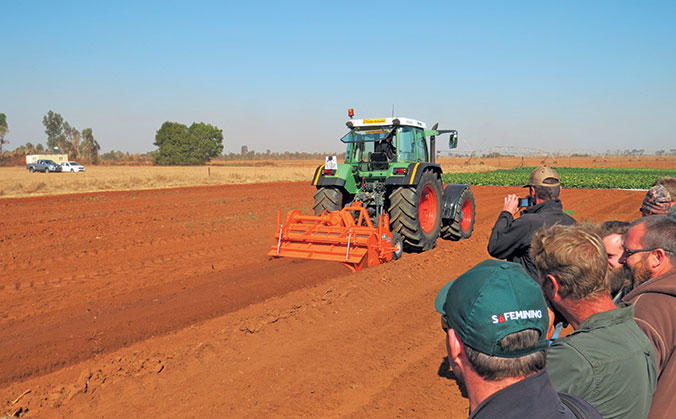 Transplanting seedlings
RAM claims that the Ferrari F-MAX is the most popular transplanter sold in Southern Africa. The patented design places the seedlings at the correct depth and correct spacing on the row. With an experienced team, it can transplant between 3 000 and 5 000 seedlings per row in an hour.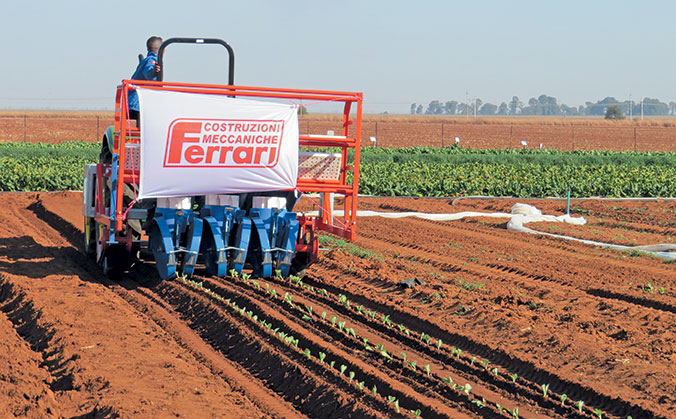 Compact transplanter
Rovic Leers reports great success with Checci & Magli transplanters from Italy. This Baby Compact two-row machine, mounted on a John Deere 5055E, is planting on a ridge.
Joe Spencer is the mechanisation editor of Farmer's Weekly.