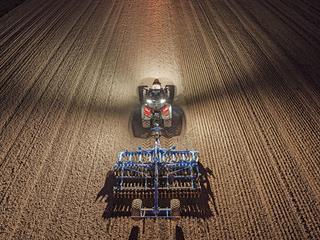 Intelligent engine designaltra will be available in four variants: Direct, Versu, Active and HiTech. The first three should arrive in South Africa in time for Nampo in May. In the new automatic powershift, the clutch pedal is required only when starting the engine. The brake pedals then control the clutch, thanks to the AutoTraction automatic clutch function.
The accelerator pedal does not control the engine speed, but instead controls the driving speed. This system is a considerable help when using PTO-driven implements as the driver can change powershift gears and adjust the speed simply by pressing the accelerator pedal. This leaves his hands free to control the tractor and implement. The powershift system also includes a hill-hold function, which facilitates front-loader operation.
The tractors are available with the AutoGuide steering assist system and AgCommand telemetry. The former uses satellite signals to steer the tractor with perfect accuracy. AgCommand allows the operator to monitor the use of the tractor, anticipating service requirements and compiling operating data that can be used by contractors for invoicing purposes.

Some specs
Turning radius is unbelievably tight at just 5,25m, even with a front loader, pneumatic front axle and front linkage. The tractor weighs 7,3t, with a theoretical total weight of 13,5t. Ground clearance is 60cm, and the 2 995mm wheelbase provides stability on the road.
The upgraded rear linkage at the rear can lift up to 9,5t, while the integrated front linkage has a capacity of 5,1t. There is now a choice of three speeds in five modes for the PTO: 1000, 1000E, 540, 540E and ground speed PTO. Service intervals are 600 hours, and checking the oil daily is easy, thanks to inspection windows. Radiators and filters can be accessed without tools.
Cool cab
The brand new cab is stylish, spacious and quiet. Specs include a front windscreen wiper sweeping 270°, factory-fitted parking cameras, and LED work lights. A window in the front section of the roof helps when operating  a front loader; the optional forestry cab has a window in the rear of the roof.

Intelligent engine design
All T-series models are powered by AGCO Power engines, the two smallest models by a 6,6-litre engine and the others by a 7,4-litre one. Exhaust emissions are minimised by a Stage 4-standard SCR system. The turbo features an electronic bypass valve, so the engine responds rapidly and offers excellent torque, even at low revs. All of this results in excellent fuel efficiency.
The T174 is available with Valtra's EcoPower feature. Press the Eco button and the nominal engine speed drops to 1 800rpm while torque increases. This reduces fuel consumption by about 10% while lowering noise level and extending engine life.
Available on all models, Sigma Power increases engine output by 11kW when the PTO is under sufficient load. The transport boost function in turn provides an additional 11kW in the C and D ranges.