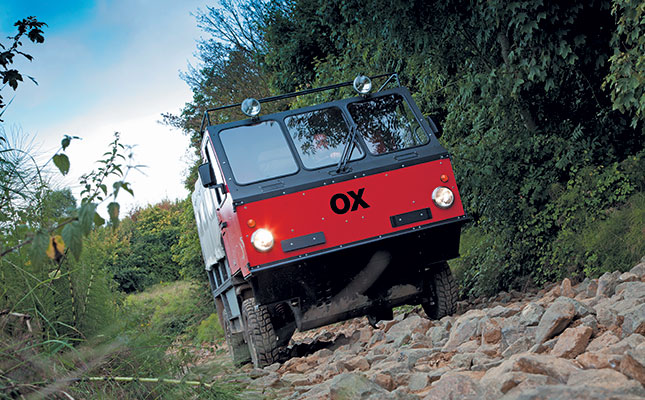 The Global Vehicle Trust (GVT) is a British charity that was established by entrepreneur and philanthropist Sir Torquil Norman in 2013 to develop a cheap, rugged vehicle for rural areas in developing countries.
The brief called for high ground clearance, excellent approach and departure angles, a multipurpose layout and a three-person cab.
The company engaged South African-born Gordon Murray, the renowned designer of Formula One racing cars, amongst others, to design the vehicle, and Murray has come up with a revolutionary design – the OX.
"The OX design and prototyping programme is undoubtedly one of the most interesting I've undertaken during my 45 years of car design, including my years in Formula One," says Murray.
Do it yourself
The flat-pack format fundamentally changes the way a vehicle can be purchased and transported. The body, chassis and wheels will be shipped in one flat-pack, and the engine and gearbox in another.
Assembly will take place in the destination country, and three skilled people can put an OX together in approximately 12 hours.
Once assembled, the overall length is far shorter than a large SUV, yet the OX can carry a payload of 1 900kg, about twice the capacity of most popular bakkies. The load volume is 7m³, which means that the OX can carry up to 13 people, eight 200ℓ drums or three standard pallets.
Built for rough terrain
In any vehicle, travelling over rough ground depends less upon the number of driven wheels than the balance and ground clearance. The OX is driven by two wheels, which allows for a much higher clearance without the need for larger and more expensive wheels and tyres.
In addition, the wide wheelbase allows it to follow the tracks of larger vehicles on unpaved roads. With a wading capacity of up to 780mm, the OX can traverse flooded terrain.
The vehicle has fully independent suspension on all wheels and a wide range of wheel travel. This assists grip and provides better stability than many off-road vehicles.
Power is provided by the ultra-reliable 2,2-litre Ford diesel.
The three prototypes built so far have been put through rigorous testing. The GVT believes that the OX project will attract a wide range of interest from potential backers and is looking for investment from the automotive industry to take the OX into full production.
This could be an ideal project for a South African manufacturer, especially if a large proportion of the components were made here.
Joe Spencer is the mechanisation editor of Farmer's Weekly.