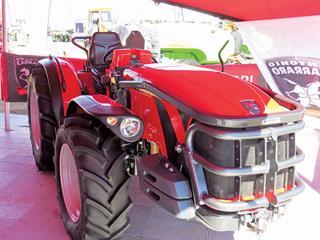 Massey Ferguson 7614 with MF 976 loader.t and most powerful Challenger tracked tractor to date had pride of place on the Barloworld Equipment stand at Nampo. There was much interest in the AGCO Power V12 engine, rated at 440kW. Challenger maintains that, regardless of the kilowatts from the 16,8-litre engine, what really matters is torque and the new 800 series (represented here by the MT 875E below) has enough power and torque to handle the toughest tillage applications.
Challenger MT 875E.
Then there was the enormous Challenger MT 965C (below). Powered by the CAT C18 ACERT engine rated at 391kW, this is not simply a Challenger tracked tractor on wheels. All the power is efficiently routed through the rugged transmission to the front and rear differentials for maximum performance and minimum loss of power. Compound inboard planetary final drives ensure that all the grunt gets to the ground via the eight massive wheels.
Challenger MT 965C
Another tractor that caught our eye was the Carraro TRG 9800 (top right), imported by VB Agri from Italy. This multipurpose tractor is designed for work on open lands or in orchards and vineyards, and can safely handle sloping terrain.
The articulated 4WD configuration, with oscillating chassis, ensures constant ground adherence and exceptional manoeuvrability. Ergonomic controls and a reversible driving position provide even more versatility, making the unit ideal for operating a fork-lift attachment or for forestry work such as mulching between tree rows in reverse drive. It is powered by a four-cylinder 67kW turbocharged engine.

Hinomoto 180DT
The advantages claimed for the new Hinomoto 180DT are its remarkable fuel economy and the fact that it has sufficient power to operate a rotary cultivator that is wider than the tractor. The very small turning circle means it can work in confined spaces such as tunnels used for vegetable growing. Another plus is that it can be transported on a 1t LDV, making it an ideal unit to share between a number of small growers.
Hinomoto 180DT
Farmtrac and Chery from Dicla
The Farmtrac Heritage range is built by the Escorts Group, one of India's leading tractor manufacturers since 1944, with a range of models from 18kW to 60kW. The Farmtrac 60-75 has a four-cylinder 2860cc turbocharged and intercooled engine rated at 55kW and an eight-forward and two-reverse speed transmission.
Farmtrac Heritage 60-75
The Chery RD254-A from China has a very economical three-cylinder engine rated at 18,8kW, a transmission with eight-forward and reverse gears, and a two-speed PTO. The short wheelbase and small turning circle make it highly manoeuvrable and thus ideal for working small areas. The wheel track can be adjusted to suit row-crop farming.
The Chery RD254-A is seen here with Dicla's DMB 70 mini-baler, which has a lot of features in a small package. The three-point mounting means less wear and tear when transporting and enables tight turns, making it suitable for baling in confined spaces such as orchards or even road verges. It also reduces the possibility of damage to the PTO shaft.
Chery RD254-A and Dicla DMB 70 baler.
The DMB 70 makes a compact 600mm x 750mm bale that is popular with smallholders and horse owners, and the baler is an ideal combination with the Chery tractor.
Big tractor, big loader
The Massey Ferguson 7614 fitted with an MF 976 loader is a good example of the versatility of modern tractors. Here is a big tractor with a powerful six-cylinder engine, rated at 96kW, capable of the heaviest field work. Fitting it with a matching loader turns it into a particularly useful heavy-duty materials handling unit. The transmission, with a forward and reverse shuttle, exceptional hydraulic power and a 2,6m-wide bucket with a capacity of 1,85m3 means that it can compete with industrial-type front-end loader units.
Massey Ferguson 7614 with MF 976 loader.