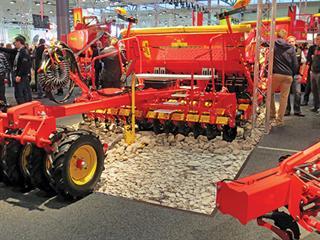 South Africa's agricultural equipment manufacturing industry is alive and well, but faces intense competition from imports. South American companies were probably the first to tackle the local market, using their experience with no-till to fill the gaps when this practice became popular in South Africa. They were soon joined by others.
The latest major brand to arrive here is Väderstad from Sweden, distributed by Vitamech, based in Bellville in the Western Cape.
Väderstad machines, it is claimed, are tested not only in the laboratory and on the land, but in a gravel pit and a rock quarry. Here they are exposed to more ruthless treatment than they should ever encounter in normal operation. This uncovers possible weaknesses that can be remedied before the customer takes delivery of his new machine.
Seed drills
Väderstad's Seed Hawk has proved to be the drill most suitable for SA conditions, and a number of units are already operating in the Moorreesburg and Malmesbury wheat lands of the Western Cape. When used for direct drilling without prior cultivation, the Seed Hawk causes minimal disruption of the soil, preserving moisture. The stubble of the previous crop is left as a protective layer, decreasing the risk of erosion and run-off.
Although the drilling speed for the Seed Hawk is limited to 10km/h, the total establishment time is far lower than with conventional tillage systems. Another advantage of the Seed Hawk is its low draft requirement, claimed to be less than 20kW/m of working width.
Already proving successful
Tempo maize planters are operating in Bethlehem, Bothaville, Bloemhof and Clocolan in the Free State, where they are proving successful on conventionally tilled lands and no-till stubble. The Tempo operates accurately and efficiently, even at high planting speeds.
Electric metering of seed, fertiliser and micro-granules can be shut off row by row when working headlands and irregular-shaped lands, avoiding double drilling. The seed meter can also be calibrated for different seed types. Information for the operator, presented on the display screen, includes skips, doubles, precision, seeds/ha, distance between seeds and the co-efficient of variation.